Climate phenomena, cybersecurity will be top insurance risks in 2022
Experts agree that the climate crisis and natural disasters will take center stage in 2022 for insurance companies. Forest fires, hail and frost raised insured losses from natural disasters to their highest level in a decade during the first half of 2021.
Interest in these phenomena is due not only to their growing frequency and severity, but also because they are risks that will impact portfolios, since most P&C assets and commercial lines are significantly exposed to them.
Joan Cuscó, global head of Transformation at MAPFRE (seventh in the photo from top to bottom), recently participated in the latest InstechLondon podcast and coincided with other innovation experts on this point.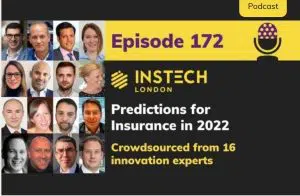 Additional rising trends include operational excellence and allied technologies to improve the customer experience.
"2022 will be an exciting year in terms of operational excellence." In this regard, Cuscó pointed out the benefits of harnessing the power of Artificial Intelligence (AI) and deep learning in back-end processes to improve insurance process automation.
Ensuring the rapid, efficient handling of claims and repairs is one of the main areas where companies like MAPFRE are working in order to radically transform the customer experience. For example, thanks to a recent alliance with Tractable, which has developed an AI-based solution, MAPFRE customers' vehicles will be assessed faster and more efficiently through a unique model using photos taken on their phones. This project was launched in Brazil but could be scalable across other countries.
Cuscó finally noted that insurance companies' main obligation is to solve any problems that may arise. In this regard, he pointed out, that responsibility now includes protecting customers' digital assets in a world where things happen online.
The panel featured 15 other innovation experts from top companies and the global insurance and reinsurance ecosystem.
Related articles: