MAPFRE is a socially responsible, diverse and inclusive company. We have the best talent available to serve our clients and develop the business. We are a team of committed and talented people, with a management model that promotes professional development, knowledge management and acquisition and solidarity.
Our people-centered work environment is full of exciting opportunities. Our professionals design and lead the development of their careers. For more information, we invite you to read our People and Organization 2021 report.
Our employees have the opportunity to grow and train professionally thanks to the training activities we offer:
Training programs, self-learning and training itineraries
Development plans and career plans
Functional and geographical mobility
Recognition programs
Mentoring programs
Knowledge management tools
360° performance evaluation
Innovative and transformational projects
Work-life balance measures
Social benefits and health programs
Corporate volunteering projects
We wish to highlight: that 97 percent of staff are on permanent contracts; 14.9 percent of employees changed roles in 2020; more than 3,800 employees have specific development plans and almost 5,000 have career plans designed for them; we provided close to one million hours of training, equivalent to four days of training per year per employee, and we have invested more than 7 million euros in training; more than 16,500 employees are included in recognition programs, 458 employees have participated in the internal mentoring program globally. We have a knowledge repository called EUREKA in place, to which more than 700 knowledge items have been contributed and are available to employees globally.
Committed team. Our experience measurement model is deployed in 19 countries (81.1% of employees covered). The engagement index in 2021 stood at 71 which corresponds to the percentage of employees who rated with an average score of 8, 9, or 10 in this ten variables: Knowledge of the objectives, pride in the work performed, recognition for the work performed, contribution to the company, receiving quality feedback, development opportunities, collaboration, work tools, caring for people, pride in the social impact. The response rate in 2021 was 61.5%.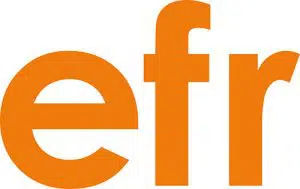 In Spain, MAPFRE holds
EFR certification
(family-friendly company), granted by the
Fundación Másfamilia
and endorsed by the Ministry of Equality. The EFR initiative has been recognized as a Best Practice by the UN, which makes it one of the highest recognitions in the field of conciliation and equality that currently exists in this country.

In addition, 354 health-related campaigns have been carried out worldwide; 31 countries participated in the MAPFRE Week: Objective Health, Well-being and Diversity program, reaching 84.7 percent of the workforce. More than 10,300 volunteers, including employees and family members, have participated in more than 1,600 activities related to education, nutrition, health and emergency response, which have directly impacted more than 125,000 people.
Every year we organize blood drives, in which all employees worldwide have the opportunity to collaborate during a 24-hour period. Last year, more than 1,900 donors from 25 countries took part, benefitting more than 5,800 people.
If you want to work with us, check out all our job offers and internships worldwide.