SUSTAINABILITY| 19.05.2023
It's not just mobility that we need to rethink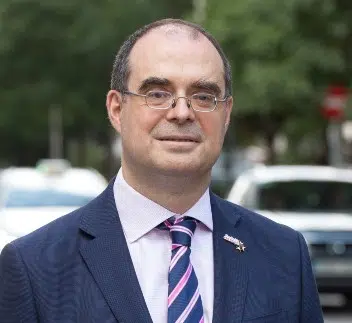 Jesús Monclús
Manager of the Accident Prevention and Road Safety Area at Fundación MAPFRE
With its Rethinking Mobility campaign, the United Nations Road Safety Collaboration (URNSC) is expanding its usual focus on road safety this year to give greater prominence to the overall sustainability of our daily journeys.
Globally, road traffic crashes kill more children and young people between the ages of 5 and 29 than any other cause of death. And the underlying message from the UN and the WHO is this: either we substantially change the scope of the measures in place (e.g. better vehicles and infrastructure, more training, education and awareness, more reliable data supported by research, etc.) or we will not achieve either the 2030 accident reduction targets or the other related goals of the 2030 Agenda such as safer and sustainable cities, reduction of energy consumption, fight against climate change and so on.
At this point, I think we would all agree that, whenever possible, it is better – healthier, more economical and environmentally friendly – to travel on foot or by bicycle than by private car or motorcycle. Or that public transportation should be a priority over individual motorized mobility, since public transportation allows a greater number of citizens to travel at a lower cost and with a smaller environmental footprint. Moreover, we should remember that the UN/WHO approach is, and should be, global and that for the vast majority of the inhabitants of this planet it is neither economically viable nor feasible to travel with modern vehicles with low or zero environmental impact and numerous safety measures.
Through Fundación MAPFRE, this year we should all join this moment of rethinking and "activism in movement." As on previous occasions (the United Nations World Safety Week is held every two years), we will be supporting the United Nations and the World Health Organization in disseminating the messages of this campaign on social networks and in the 20 countries in which we are currently working with the aim of achieving 100% safe, healthy and sustainable mobility as soon as possible. In the coming weeks we will also be launching our new online training modules for workers, focusing on the safe, healthy and sustainable choice for how we travel and on the main safety measures for each of these choices.
The UN's messages in this campaign are clear: it is imperative that governments and their partners rethink mobility, and initiatives to reimagine mobility in the world must be designed with safety at their core. To ensure safety, all road networks must be designed with the safety of those most at risk in mind. Accordingly, walking and cycling, if done safely, contribute to improving people's health, the sustainability of cities and the equity of societies. Finally, the solution to many of society's ills lies in safe, affordable, accessible and sustainable public transportation.
Nevertheless – and I'll conclude with this thought – we would be making a very serious mistake if we failed to set our sights higher and rethink our way of life as a whole. Transportation is responsible for about 30 percent of energy consumption and pollutant or greenhouse emissions: we are not even talking about half of the "problem." We need to rethink the way we live from top to bottom (the way we heat our homes, feed ourselves, consume, etc.): in short, the way we relate to the planet that gives us a home and gives us life. We have now become accustomed to the term "emergency," but we have forgotten that this term means "situation of danger or disaster that requires immediate action because there is a clear risk to life": let us rethink and change now what needs to be changed.
RELATED ARTICLES: