SUSTAINABILITY| 08.03.2022
International Women's Day
Every 8th March we celebrate International Women's Day and in 2022 we are doing so with the slogan "Gender Equality Today for a Sustainable Tomorrow" to recognize the role and contribution of women and girls around the world who are leading efforts to respond to, mitigate and adapt to climate change so as to build a more sustainable future for all.
Women: those most affected by climate change
According to the United Nations Development Program, women are also the first to feel the effects of climate change. An example of this is that they are the ones who travel longer and longer distances to meet their families' basic needs.
Likewise, although the problems faced by the environment have serious consequences for everyone, they particularly affect the most vulnerable and marginalized sectors, especially women, whose health is more fragile during maternity. Moreover, they also constitute the majority of the world's poor and are the most dependent on the natural resources that are under threat from climate change.
Boosting gender equality for a sustainable future
Among the greatest global challenges of the 21st century are reducing disaster risk and contributing to gender equality in the context of the climate crisis. The role of women and girls, who are effective and powerful leaders driving change to mitigate and adapt to climate change must continue to be promoted.
Over the years we have seen a multitude of women involved in sustainable initiatives around the world who, through their leadership, generate more effective climate action, such as the activists Jane Goodall or the young Greta Thunberg.
Enabling women and girls to have a voice and participate in decision-making related to climate change is essential in order to achieve sustainable development and greater gender equality . Without gender equality today, a sustainable and egalitarian future will remain out of reach.
MAPFRE for gender equality
At MAPFRE we deem it necessary to to give visibility to gender gaps and implement good practices that can help us to prevent and combat them. Closing these gaps and achieving equal opportunities has always been one of our priorities, not only on March 8, but on every day of the year.
To strengthen our commitment to the cause, we have adhered to the UN Women's Empowerment Principles, which are dedicated to promoting gender equality and the empowerment of women. This initiative, which is part of our Diversity Strategy called Inclusion for sustainable growth, is based on the idea that diversity is an opportunity for sustainable growth, representing more than just an area that the company must manage.
We are also on the Bloomberg Gender-Equality Index (GEI), Which recognizes companies around the world that stand out for their promotion of equality and their transparency in providing gender-related information. It is the most important index in the field of gender worldwide, and more and more corporations are joining it: in 2019, 230 companies were part of it, and in 2021 it now reached 380 companies.
As partners of the Spanish Network of the UN Global Compact, we have taken part in the Target Gender Equality accelerator program, a global movement to accelerate action related to SDG 5 "Gender equality.
Also, since 2018 we have been part of the cluster Closingap, an initiative consisting of twelve organisations with the mission is to promote measures and actions from the private and public sectors in favor of equal opportunities between women and men, in order to contribute to equity and economic development and growth in line with the Sustainable Development Goals (SDGs).
Initiatives to contribute to women's leadership
We seek a cross-cutting commitment and that is we have women's leadership networks in Spain, Brazil, USA, Mexico and Turkey that aim to promote initiatives that help progress equality in the company, and in particular, increase the presence of women in underrepresented positions of responsibility.
To promote equal opportunities also in professional development, we have created a program through the Professional Development School of MAPFRE's Corporate University, aimed at women in the company. This training includes content related to the economic environment, strategic vision, digital environment, innovation, agility, networking and personal branding, high-performance teams, communication and influence, interpersonal relationships, work/life balance, coaching, and more. The program, which is being implemented in Spain, Brazil, Venezuela, Peru and Turkey, is expected to be extended to other countries and a total of 136 women have already participated in it.
We have a firm commitment to promoting STEAM careers (science, technology, engineering, humanities and mathematics) in which women are still a minority. We have carried out activities aimed at the daughters of our employees to encourage them to take an interest in a future career in these:
Pilot workshop at Fundación MAPFRE and MAPFRE RE with CA Technologies: on November 30, 2018, a pilot workshop was held with daughters of employees aged between 11 and 14.
Workshop with girls in Gamergy (E-Sports): In June 2019, we invited 30 employees' daughters aged 11 to 14 to the tenth edition of Gamergy, the biggest eSports event in Spain, organized by the LVP (Professional Video Games League) at the IFEMA Trade Fair Venue in Madrid.
Our commitments at the highest level
In 2020, our workforce consisted of 44.9% men and 55.1% women. 46.3% of vacant job positions of responsibility were filled by women. At 2021, the data will increase as will our commitment to equality. 55.6% of our employees are women, compared to 44.4% who are men. In 2021, 31.3 % of our management positions are now held by women and that 56.5% of the internal promotions carried out in the company have been women. Between 2016 and 2018, we set ourselves the goal of having 40 % of women in senior positions and, between 2019 and 2021, having 45% of vacancies in senior positions filled by women. We are proud to confirm that all these commitments have been met and exceeded (40.8% and 49.1%, respectively).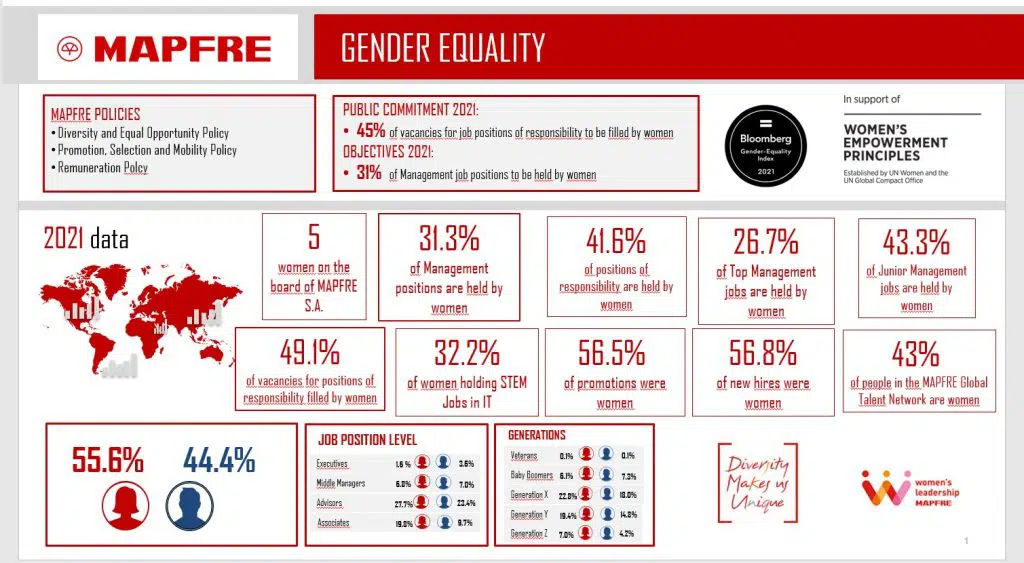 RELATED ARTICLES:
https://www.mapfre.com/en/insights/commitment/fundacion-mapfre-provides-entrepreneurship-kits-training-colombia/
https://www.mapfre.com/en/insights/commitment/ela-segura-brazil/