SUSTAINABILITY| 10.24.2023
Eduardo Sánchez: "Our challenge is to offer insurance that also reduces inequality gaps"
Anticipating future risks in order to develop more products and services, which can also help reduce the protection gap for the most vulnerable groups and improve the well-being of our society, especially in the face of challenges such as climate change or an aging population. This is one of the key challenges facing MAPFRE's Group Head of Actuarial Office, who we spoke with today, the International Day Against Climate Change.
He believes that actuaries play a fundamental role in the insurance business, as they predict and estimate future risks and help with strategic decision-making aimed at protecting the planet and caring for people. The main challenge for Eduardo Sánchez (Madrid, 1967) is to propose innovative solutions for creating products and services that also drive sustainability. He knows that this a daunting task, and it's one that he particularly enjoys following his recent appointment as Director of the Sustainability and Climate Change Observatory at the Spanish Institute of Actuaries.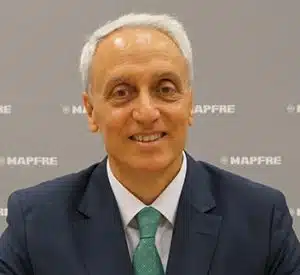 What role do actuaries play when it comes to sustainability?
It's a very challenging job, as not only do we measure the impact of climate change risk on insurance, but we also design innovative products and services with a meaningful environmental and social component. Hence, our responsibility goes beyond a reactive approach of simply quantifying the ongoing events, as we are also proactive, providing solutions to accommodate and alleviate the effects of climate change, such as insurance that encourages sustainable mobility and includes incentives for cleaner vehicles.
And what is the impact associated with climate risks?
Despite what a few skeptics still might believe, a significant portion of the root cause of global warming can be attributed to human activities. Predicting the exact course of risks and their eventual consequences is exceedingly challenging, yet the term 'green swan' has been coined to describe climate events that are highly likely to occur, with an impact that will probably be irreversible. Heat waves are a clear example. We are aware that these events will persist, but the extent of their impact on human mortality in the medium term remains uncertain.
Not to mention the social footprint.
Of course. The effects of climate change can be very harmful to the environment and to people, although we cannot yet anticipate their severity. For instance, heat waves can lead to various repercussions, including the emergence of specific diseases and food contamination, as well as the combined impact of these factors. To ascertain this, we must conduct simulations that rely on hypothetical scenarios, given the uncertainty surrounding the potential progression of climate change. In this context, there are studies concerning heat waves that have measured how mortality is linked not only to the presence of heat waves but also to their frequency and the proximity in time between them. What is also becoming clear is that heat waves have a more severe impact on the health of older people.
What are the actuarial challenges posed by climate change?
We find ourselves in a situation where our conventional methods are proving insufficient, which is why we are transitioning towards an approach that integrates established techniques rooted in historical data with those that simulate potential future scenarios. In our industry, it is essential to be ambitious when crafting insurance solutions aimed at mitigating and curbing the impact of greenhouse gas emissions in the atmosphere. This includes innovative approaches like parametric insurance, which automatically activates in response to severe weather events. Such policies are already in place to repair damage to coral, for example, as a result of severe weather conditions, and they automatically 'trigger' payment of compensations and substantially reduce the administrative process of handling claims.
Spain is the first European country to have its own Actuarial Climate Index (ACI). What benefits does it provide?
This indicator is designed to offer the insurance sector and regulatory authorities a means of quantifying the rise in extreme weather events within Spain, particularly events that result in the most significant harm to individuals and property. This index will serve the broader financial system and, more specifically, the insurance industry by offering an unbiased evaluation of the specific impacts of these extreme events. It will enable a detailed assessment of extreme weather event risks and their associated consequences. The ACI has found that, over the last 10 years, maximum and minimum temperatures have been above average in line with a sustained upward trend. This phenomenon is not exclusive to Spain; it has also been observed in the United States and Australia, where the index is compiled.
How can insurance companies contribute to social sustainability?
From a social standpoint, sustainability entails efforts to decrease the insurance gaps among groups that are particularly vulnerable in certain insurance categories. One of these groups is the elderly, where we have observed a drastic drop in the levels of health insurance, due to the exponential increase in premiums and the reduction in income after retirement. To mitigate this effect, we are working on different insurance options, such as introducing level premiums that create reserves for aging or savings, thus preventing price hikes based on age. Another demographic with limited insurance coverage is the low-income segment, and we are making efforts in several countries to enhance their insurance coverage through microinsurance. This initiative aims to safeguard the lives, health, and financial well-being of numerous individuals who lack adequate protection.
Do you think we, as a society, are on track to meeting the 2030 Agenda?
At the moment, I think we may not be moving at the right pace as a society, but I remain cautiously optimistic. To achieve these objectives, it's crucial for everyone to demonstrate their utmost commitment within their respective sphere of influence. Insurers play a role in fulfilling these objectives by encouraging changes in customer behavior through innovative, appealing, and environmentally friendly insurance offerings. In this sense, at MAPFRE, we will continue to capitalize on the remaining years of this "Decade of Action" within the 2030 Agenda to keep making as much progress as possible on the 17 SDGs.
How do you personally care for the planet?
I believe that by incorporating small changes into our daily habits, we can make a big difference. Sorting out my waste has been part of my daily routine for a long time now, and I now have four waste receptacles in my kitchen. In fact, I started doing it because of my children, who taught me the importance of reducing, recycling, and reusing to keep waste from ending up in landfills. I'm also committed to energy reduction and sustainable mobility, and my next car will be a plug-in hybrid or fully electric. I don't use plastic bags when shopping either, and I try to print as little as possible to cut down on paper consumption. As I said, these are small actions that can have a significant impact on the future of our planet.
RELATED ARTICLES: