SUSTAINABILITY| 15.11.2021
UN urges countries to redouble their efforts to avoid 13 million traffic victims in the next decade
The United Nations (UN) just presented the 2nd Global Plan for the Decade of Action for Road Safety 2021-2030, linked to the Sustainable Development Goals (SDG), with updated targets and recommendations to reduce the number of deaths and injuries by half. According to Fundación MAPFRE, which has a specific Area on Accident Prevention and Road Safety, the second decade for road safety should be "more action-oriented." Among the 65 new measures proposed, it highlights those that contribute to an increase in public funding and greater involvement of the private sector, following Fundación MAPFRE's example, more political commitment among countries, as well as measures that draw attention to controlling and reducing speed at the wheel.
The United Nations Organization (UN) estimates the number of fatalities at 13 million and injured at 500 million in a decade unless more decisive action is taken. It is urging the governments of its Member States to redouble their efforts to control this "pandemic" that has been underway since at least 1896, when a London pedestrian became the first person to be hit and killed by a car.
The numbers are unacceptable. Every year, 1.3 million people die and 50 million are severely injured in traffic accidents. They are the leading cause of death worldwide among children and young adults between the ages of 5 and 29.
During the presentation of the Assessment Report on the First Decade of Action for Road Safety, Jesús Monclús, Director of Accident Prevention and Road Safety at Fundación MAPFRE, made the case for turning young people into key players and explicitly recognizing safe mobility as a "fundamental human right and a common good for society." This is because mobility plays an integral role in almost every aspect of people's daily lives.
Men take two to four times as many driving risks as women, while women are killed, above all, as pedestrians and passengers. The situation is worse in middle- and low-income regions, which represent 9 out of every 10 traffic fatalities.
Unless more decisive action is taken, the problem will continue. In addition to deaths and injuries, the psychological and economic consequences will increase, preventing sustainable development in countries, especially those with lower incomes.
Towards sustainable development and transport
It is no longer simply about reducing road deaths and injuries, but supporting sustainable transportation and development.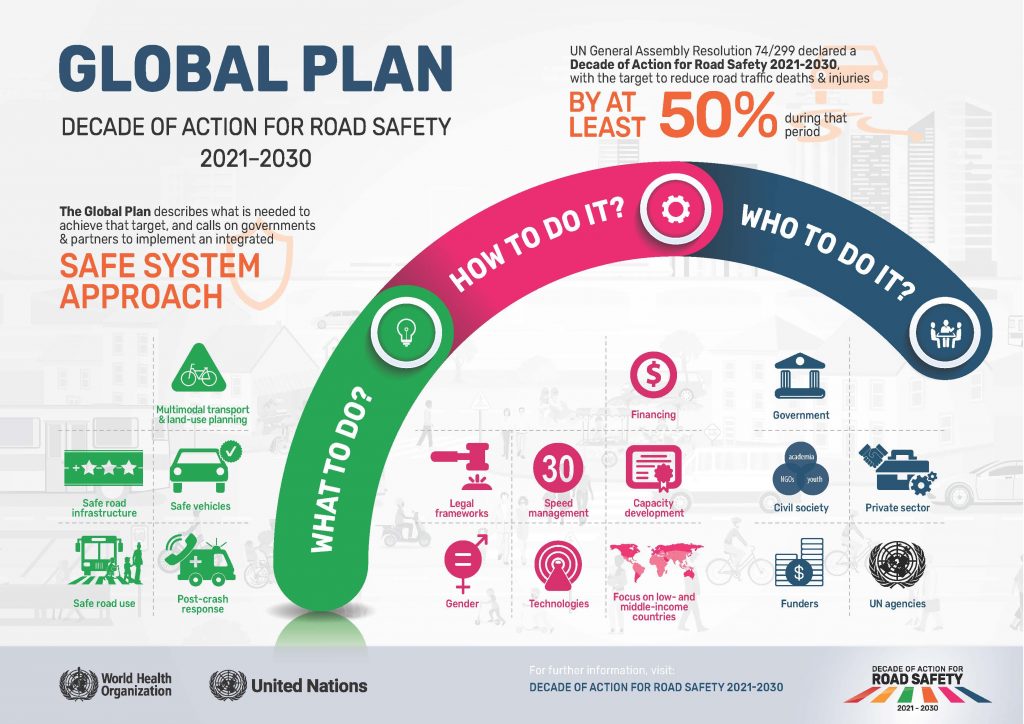 The new plan contains actions that further the UN Sustainable Development Goals, to which MAPFRE is fully committed with PlayingOurPart, establishing that "safe mobility is a prerequisite to achieve the rest of the goals, such as access to education and work, ending poverty and ensuring social equality, among others."
Experts like Monclús are encouraged by the fact that the new document also calls for a boost in funding and training for professionals, which are crucial issues in road safety, along with others, such as highlighting the gender aspect.
According to the Assessment Report on the First Decade of Action for Road Safety 2011-2020, a growing number of institutions and countries are agreeing to turn this issue into a public health issue, implement better traffic-injury registration and notification systems, and promote international collaboration to identify and implement best practices.
Despite this, only 28 countries worldwide, representing 7% of the global population, have strong enough legislation to combat risks such as drunk driving, speeding, and the failure to use helmets on motorcycles and child-restraint systems.
Comprehensive focus on safety systems
Cars and roads are the two technological areas where improving safety could reduce the accident rate, key to fighting distractions, improper speed, etc. The report highlights advances in road safety strategies and the creation of agencies to guarantee compliance, as well as systems to record the number of collisions and accidents on the road each year.
Promoting the use of public transportation, biking, and walking are identified as alternatives to private vehicles.
One of the UN's challenges for 2030 will be getting new roads to meet all the road safety technical requirements for every user type or to obtain a minimum three-star rating.
Between 2011 and 2020, improvements were also observed in countries with regard to requiring seatbelts, ISOFIX child-seat anchors, and active and passive safety systems, such as stability control and pedestrian detection. Even so, in 2018, only 40 countries in the world had ratified the basic United Nations vehicle and traffic safety regulations (the UN has a total of 193 members at this time).
The new Global Plan urges countries to adhere to the UN international conventions on vehicle safety and manufacturers to upgrade their standard safety equipment regardless of the per capita income of the citizens of each country.
In recent years, there have been few advances in speed limit legislation, but more countries have adopted regulations on drunk driving. However, this is not the case of the availability of a universal emergency phone number.
Education is also considered essential. This is a priority area for Fundación MAPFRE in dozens of countries: the new Global Plan 2021-2030 is committed to providing first-aid training, starting with that of professional drivers, and clearly mentions road education and training as a complement to legislation and police supervision.
Another area where progress is needed is the legitimate aspiration of victims' associations to provide comprehensive assistance to accident victims and their families, including single emergency numbers, medical, social, and occupational rehabilitation and greater restorative justice.