Metaverse: what can we expect from this new virtual world?
Today we are bringing the second installment on the Metaverse, where we delve deeper into the subject with the help of Edgar Martín-Blas, an expert on augmented reality and CEO and Creative Director of Virtual Voyagers. His company is one of the few companies specializing in virtual environments in Spain and has carried out hundreds of virtual, augmented, mixed, and immersive reality projects, including Facebook's virtual concert platform.
We talk to Edgar about how they got started, their opinion on what to expect from this new virtual environment we are entering and how it will affect brands, and how they launched an academy to train new professionals who will contribute to the development of the Metaverse.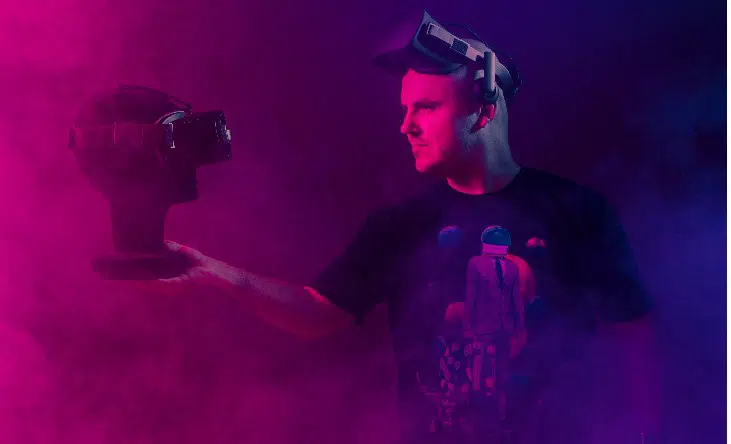 To begin, can you explain how your relationship with augmented, virtual, and mixed reality began and what led you to become partners in the creation of this Metaverse?
It all began in 2013 when we tested the first VR prototype, the Oculus Rift, which was created by a 20-year-old named Palmer Luckey. This product was later bought by Facebook for a whopping $2 billion.
"At that point, we brought together a group of adventurers who started experimenting with these technologies, and little by little we grew in number of developments and brands, until we worked for more than 88 brands on 220 projects."
Their most recent projects include those developed for Vodafone and Telefónica, which were on display at the latest edition of the Mobile World Congress in Barcelona. For the first, they created the "Vodafone 5G Reality" project, a new virtual service that will allow customers to enjoy immersive experiences, such as attending concerts, traveling the world, and much more, all in virtual format. For Telefónica, they created a virtual space where MWC attendees could walk around the stand as an avatar, and many of their presentations at the event could be viewed virtually through the Metaverse.
If the Internet has already added a new dimension to how we interact and consume, what will the arrival of the Metaverse mean when it is implemented more globally? How will it affect the way we consume, act, or relate to one another?
It will change many things, especially in terms of what it means to be present, as the Metaverse allows you to access a 3D Internet where things take place. This opens the door to thousands of applications ranging from video games to remote working, socializing, performances, and communication.
Just consider that any brand will be able to create a three-dimensional environment and equip it with activities. Hence the massive anticipation for the arrival of the Metaverse.
And looking toward the future, what are the prospects for brands/companies following the arrival of the Metaverse?
They will have to learn to coexist in a physical-digital world that is different from the current world, as new generations of 8- to 16-year-olds already interact within the Metaverse and place as much importance on their physical life as on their virtual one.
"This changes how we define products, how we consume, and what users value, so brands like Nike, Adidas, and Inditex have already created departments that are designing clothes and accessories for the Metaverse. Elsewhere, giants like Disney are now considering virtual worlds that will expand the movie and theme park experience to this new Internet."
How many years could it be before we see a complete transition of businesses and consumers to this new virtual world?
It is going to be a complex process; it is not as simple as making a website. I would say it will take about 10 years for smaller companies to start gaining presence in the Metaverse across the board. The foundations still need to be put in place, which is what we are working on now.

To finish, could you tell us what else we can expect from this new virtual world, apart from NFTs, cryptocurrencies, and virtual environments?
The mixed Metaverse, a type of Metaverse that is about to be launched thanks to Apple and certain manufacturers such as Nreal or Magic Leap, goes a step further and will blend the real world with the virtual world using transparent glasses. While it may seem like science fiction, it is already here, and we have already developed some prototypes along these lines.
Talent for the Metaverse: The Metaverse Voyager Academy
To develop the talent needed to create these new virtual environments, 'The Metaverse Voyager Academy' has been launched in partnership with the Complutense University of Madrid. In the words of Edgar, "we have designed this academy together with the Complutense University to train professionals under the entire umbrella of the Metaverse, from the conceptualization of virtual worlds to programming, design, and the business side. It has been an enormous success, as more than 600 people have applied for just 64 spots in the Full Mastery and Business section."
Mixed reality: here to stay
Not even a week after Facebook announced its transformation to Meta, Microsoft announced that it would introduce customizable avatars in Teams, its video conferencing tool with more than 250 million users worldwide.
The company's proposal is based on Mesh, a mixed reality platform that combines virtual reality and augmented reality. There is no need to wear VR goggles when using the avatar in Teams; the system will translate the sender's audio into mouth movements and facial expressions on the avatar. We will start seeing this feature on the application starting next year, and it will allow users who do not want to be on screen to choose a figure to represent them.
The lockdown led to a boom in virtual meetings, a format which is still being leveraged even with the return to offices. Microsoft warns that overuse of video conferencing is detrimental to employee productivity. For this reason, they claim that incorporating avatars into Teams meetings can help reduce the stress of attending one video call after another.
All this leads us to believe that the Metaverse is here to stay. As Bloomberg states, "Meta plans to create 10,000 jobs in Europe alone, adding to the more than 800 billion dollars that this industry will generate by 2024," meaning, now more than ever, we need to train people in this field to bring life to this new universe which we will all be part of sooner or later.
RELATED ARTICLES: