Insurtech funding falls to 2018 levels, but represents a $7 trillion market opportunity
Together with Dealroom, Mundi Ventures, NN Group, and Generali, MAPFRE has published "The State of Global Insurtech" , the third edition of a report that analyzes the state of insurtech worldwide with the objective of providing transparency through qualitative data and insights on the sector's current state.
Venture capital funding in technology startups applied to insurance (insurtech) has fallen to 2018 levels, closing the first half of 2023 with an investment of $2.4 billion. This figure represents a 45% drop from the same period in 2022 and a similar figure from 5 years ago ($1.8 billion).
Against the tougher economic backdrop, startups with a higher degree of maturity (Series C) record the highest drop (62% compared to their historical peak). In the case of startups in Series B rounds, the drop stands at 43%. Early-stage companies (seed or Series A) have been the most successful in mitigating the decline, stabilizing at around 29%.
These are some of the main findings from 'The State of Global Insurtech' report, prepared by Dealroom.co, Mundi Ventures, MAPFRE, NN Group, and Generali. This is the third edition of a report that analyzes the state of the insurtech industry, providing transparency through qualitative data and insights on trends and the current state of the sector.
A $7 trillion market opportunity
Despite representing a $7 trillion market opportunity, the insurance industry is not able to attract the same level of investment as other sectors, such as food and health. For example, mobility and financial services, even with less opportunity space, have received 5 and 10 times more funding, respectively.
Insurtech has also focused heavily on the casualty insurance market, which has attracted more than 60% of funding in recent years, mostly thanks to cyber insurance and commercial, home, and auto insurance. Life insurance has seen particularly low levels of investment compared to health and casualty insurance.
Joan Cuscó, Global Head of Transformation at MAPFRE, says that "despite the fact that investment has cooled down in the venture capital context in general, 'good' startups are still completing important funding rounds. It should also be noted that insurance companies still have plenty of leeway to adopt insurtech solutions that are ready to be deployed at scale. This creates a huge opportunity to get the most out of insurtech startups that offer claim automation solutions and underwriting and premium rating pricing. The industry's transformation is unstoppable."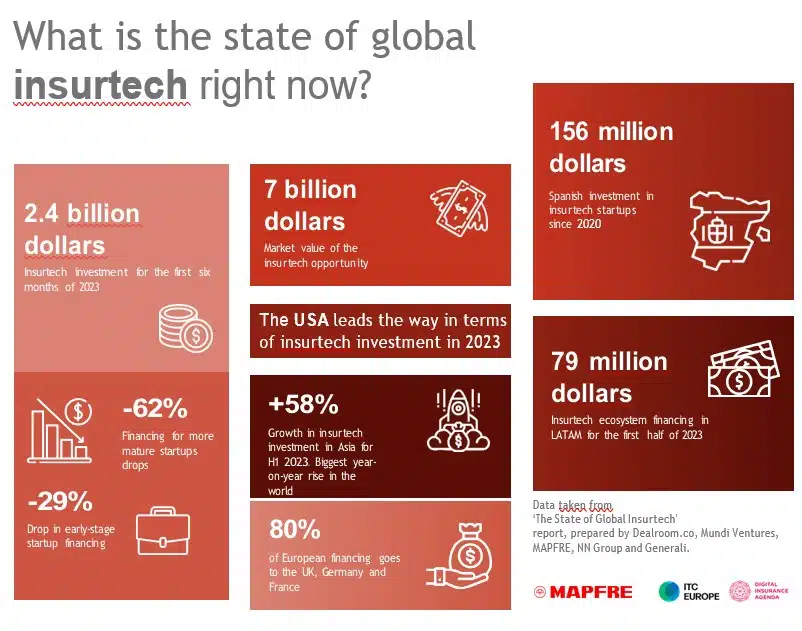 Changes for operational efficiency
Operational efficiency is a necessity for all players in the industry, who are working actively to achieve it. Insurtech startups are precisely those offering such efficiency across the value chain (distribution, claims automation, fraud management, payments, and product and underwriting) by opening up new possibilities through innovation.
Embedded insurance is entering a consolidation phase thanks to heavy investment and a large number of infrastructure providers. Open insurance has proven beneficial for both consumers and insurers, but it needs standardization, including standardized data flows, to build a truly transparent industry.
Technologies such as AI have been used in the industry for some time and have had impact across different areas (claims automation, marketing, contract and policy management, among others). Generative AI tools, such as ChatGPT, also open new doors, although it is still unknown which processes will be most affected by them. The most immediate use cases for these AI tools are customer-facing processes (lead generation opportunities, enhanced agents, customer portal, etc.). Other applications may be useful in claims automation and fraud detection.
Insurance plays a key role in both climate change mitigation and adaptation, the most serious global risks today. When it comes to other emerging risks, such as cyber protection, cyber insurance is a crucial factor in the cybersecurity ecosystem and an opportunity for insurtech startups.
These are some of the report's main conclusions. Download the full text here for more information.
RELATED ARTICLES: