Dr. Martínez-Salamanca: "Men are more likely to put off seeing a doctor or having regular checkups and lead a less healthy lifestyle"
To mark International Men's Day, we interviewed Dr. Juan Ignacio Martínez-Salamanca, a specialist in urology and men's health, to understand the main threats to the health of the male population. MAPFRE joined the campaign to raise awareness of the importance of preventive medicine for men, under the motto "Take care of yourself!"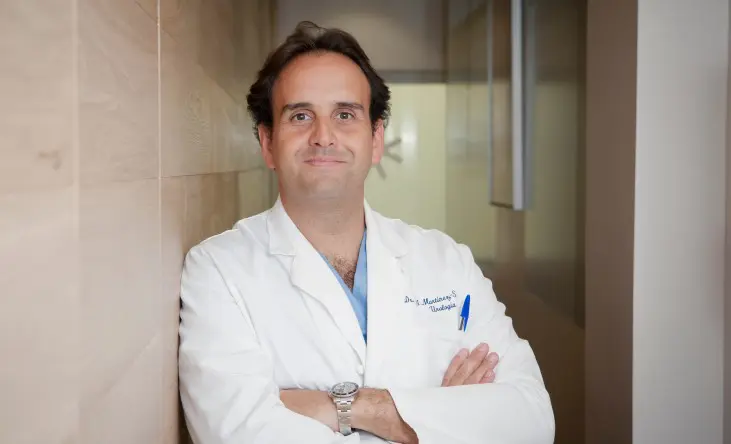 QUESTION: Why is it necessary to have gender-based health awareness campaigns?
ANSWER: It's more important than it seems. Gender mainstreaming in public health involves addressing the influence that social, cultural and biological factors have on health outcomes, to improve the efficiency, coverage and equity of all programs.
"Regular checkups are vital to ensure good general health."
Q: What are the main threats to men's health?
A: Men are more likely than women to put off seeing a doctor or having regular checkups. Men also lead a less healthy lifestyle and have a higher prevalence of alcohol and tobacco use.
They also suffer from male-specific disorders—like prostate cancer and low testosterone levels—and are more likely to suffer from colon cancer and heart disease than women.
Q: What are the key aspects of urological health?
A: Without a doubt, the most important thing is to get the right urological checkups on time.
The most prevalent conditions among patients over 50 are related to the prostate, but since men do not always make regular visits to see a urologist, sexologist or andrologist, the chance of diagnosing certain problems early is limited.
"Over a quarter of all global deaths are linked to infectious diseases."
Q: We are in the middle of the second wave of the COVID-19 pandemic, does it affect men and women differently?
A: Yes, it does. Researchers at the Carlos III Health Institute have shown that the overall mortality rate is higher among men (between 1.1 percent and 1.4 percent) than women (between 0.58 percent and 0.77 percent).
The reasons appear to be purely biological and are down to the differences in cellular immunity and increased production of pro-inflammatory cytokines between the genders.However, the body's physical defenses are not the only factor, men also tend to have more associated pathologies, such as high blood pressure or diabetes, which are also factors that increase the risk of dying from COVID-19.
For this reason, though maintaining social distance and wearing a mask in public places is essential for everyone, it is of particular importance for men.
We must remember that infectious diseases, like COVID-19, continue to be lethal to humans on a global level. Over a quarter of all global deaths are linked to infectious diseases.
Q: What can companies like MAPFRE do to improve men's health?
A: It is important to promote preventive medicine to stop illnesses and other health problems. It requires a set of medical initiatives to be put in place, aimed at promoting the protection of health and the prevention of major illnesses, both individually and collectively.