Luis Rojas Marcos: "A person who tends to communicate and interact has an advantage"
The psychiatrist offered a master conference of analyzing the power of the mind in aging. The event was organized by Fundación MAPFRE's Ageingnomics Research Center.
"If you were to ask me for a key variable in increasing the power of the mind, it would be life expectancy. The length of our lives is fundamental… And Spain is an example. The average age of women has reached 86.5 years, surpassing that of Singaporeans, and it is now only surpassed by Japanese women. "They live a lot because they talk a lot."
Following this start, the Fundación MAPFRE auditorium embraced with a knowing smile one of Spain's most international doctors, the professor of psychiatry and member of the New York Academy of Medicine Luis Rojas Marcos.
The power of the mind in aging and the ingredients to enhance it comprised the main themes of his keynote address. The lecture was focused on longevity and how an optimistic perspective contributes to overcoming diseases. Featuring in previous editions renowned scientists such as Eva Cortina and María Blasco-, this was part of the 2022 Academic Seminar on Economics and Longevityorganized by Fundación MAPFRE and the Gaspar Casal Foundation.
The foundation's General Manager, Julio Domingo, identified three major challenges facing today's society: aging, climate change and digital transformation. And anticipating the importance of the solutions that Rojas Marcos would then offer, he called for a change of attitude in order to make the most of the opportunities that rejuvenation brings. One can contribute to overcoming the paternalistic syndrome and ageism with projects of social impact and research such as those presented by the Foundation.
Communication and control of the mind
Rojas Marcos offered several elements to improve people's quality of life, regardless of their age. One of them, extroversion. "A person who tends to communicate and interact with others has advantages in many ways; that's my theory." He took communication to an intimate level, for he is in favor of people talking to themselves. "No attention has been paid to the importance of talking to ourselves. As a child, I was very hyperactive," he recalled. "Don't interrupt, say thank you, speak properly," they kept telling me. They never told me: when you speak to yourself, speak nicely, with affection."
When it comes to aging, he said we should not fall into the same stigma that has weighed on mental health. "When society demands that at a certain age you should stay home, that's a problem." His efforts, like those of the Foundation and the Ageingnomics Center, are also directed toward devoting energy and resources to learning about and studying the quality of life of older people.
To feel good on all levels, as the concept of health according to the World Health Organization, regular physical exercise is important ("it brings you to life and adds life to the years").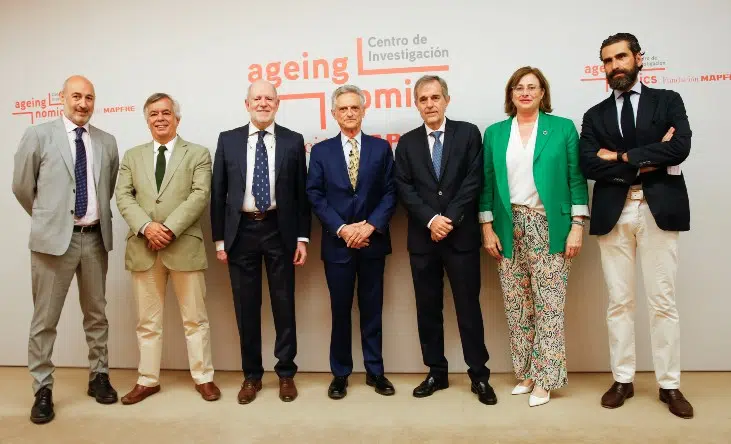 Returning to his specialty, he recalled that for 20 years, resources have been devoted to the study of optimism. He declares that he is one. "This guy is naïve – people think – when I present myself as an optimist. Optimism in Europe has a bad reputation," he summarized.
However, this trait connects with hope, with "thinking that what we wish for will happen." It is fundamental; without it, explained a professor, "there is nothing," which is why depression is a particularly worrying illness, because it affects all of us, children and adults, and robs you of hope.
During the presentation, he alluded to international events that have marked recent years – the Prestige disaster in Spain, 9/11 in the USA and the world, and more recently, the Covid-19 pandemic, which has challenged everyone's resilience. "Its most terrible impact is that it has damaged our sense of the future. More than half of what we say has to do with the future. What am I going to do in the summer, when my daughter has common sense, when she saves?" Questions to which uncertainty and vulnerability rob the sense of future, "and this has a dramatic impact on a person," he summarized.
Many moments that he interspersed during his talk – from his clinical and personal experience and from his childhood memories – had to do with overcoming adversity and putting the center of control in oneself.
I hope you're doing well. Take care of yourself. This is how we begin and close our writings to those we care about. "Long-term happiness is complicated; we all want to be well here and now. How you approach [the present] is going to be an important factor and that applies to any age. Control and self-confidence are key."
Learning to age, in his opinion, means adapting to changes, staying informed – with rigor- and understanding that it is natural, from the age of 60-65, for your memory, at a given moment, to begin to fail. It has nothing to do with dementia, he said.
"You have to sleep and wake up. If your life changes, you need to know why." He emphasized the importance of understanding what is happening. "I feel weird today [after the trip from the U.S. and the time zone change], because in NYC it's 4 a.m.
"In a disaster, when you help someone else escape, you better the panic. This is a very useful defense, because it helps us not to panic." The psychiatrist recalled that volunteering one hour a week helps sleep, improves mood and life in general.
Finally, he emphasized the importance of emotional relationships in life. "I have met very successful people in their lives (athletes, businessmen, artists) who reach a point where they say: I have no friends," he explained, referring to the unhappiness of those who appeared to have everything.
With age, the future loses meaning, but autobiographical memory is very wise. The brain tends to select "from that bucket" the good things we have experienced. That usually happens with most people when asked if they can choose 20 memories. They go to the positive ones. And if there are any who only remember the negatives I give them my card," he asserted, eliciting a big smile from the room.
Your night-time prescription? "I can't go to sleep until I can explain why my boss told me this, or why I said this, or why my daughter said that. (…) Everyone has their own explanatory style. Trying to adopt a positive one is a proven helpful ingredient, as is a sense of humor. And to illustrate this, he evoked "that angel for me, my mother." When her illness became serious, in 1994, he recalled that he asked her one day, "Mom, what do you prefer. Should we cremate you or bury you?" And the woman, who had always understood that Luis was so hyperactive and mischievous as a child, answered: "Surprise me."
RELATED ARTICLES: