Ten key issues to consider before buying a home
Regardless of your reason for buying a house or apartment, whether as an investment asset, a primary residence, or a second home for your vacations, your search for the perfect property will always bring up many questions. These may include, for example, how to determine your budget, technical details about the home itself, and where to find the most suitable mortgage with the best terms. These are all aspects you should take into account before making any final decisions about which property to buy.
The home sales data now being recorded shows a market that is more active than at any time since the burst of the real estate bubble that existed in the first decade of the 21st century. The number of homes purchased has risen by more than 30% compared to 2020, reaching levels similar to those seen in 2007, and the data for our current year are pointing in the same direction. Recovery of the real estate industry after the pandemic has occurred in the context of 24 consecutive quarters of increasing average home prices (according to data from Spain's National Statistical Institute), and home buying activity continues to show signs that are inspiring further optimism.
Of course, the real estate market has its share of risks as well, and factors such as changing benchmark interest rates and inflation are still affecting the decisions being made by individuals, as well as the behavior of the industry as a whole. All of this means that if you are now shopping for a home in 2022, it is essential to think about some fundamental aspects before you buy.
In general, mortgage loans can be classified into three types, based on the nature of their interest rates (a percentage applied to the amount of the loan still owed by the borrower): fixed-rate mortgages (where the interest rate remains constant for the loan's entire duration), adjustable-rate mortgages (also known as variable-rate or floating-rate mortgages, where the interest rate changes based on a benchmark index), and mixed-rate mortgages (a combination of those other two types).
In Europe, the benchmark rate that is most commonly used and accepted in the real estate industry is called the Euribor (an abbreviation for Euro Interbank Offered Rate). After more than six years as a negative percentage, this year the Euribor is back above 0%. Specifically, during the last 12 months it has increased by 101%: from ‑0.484% in April 2021 to +0.013% in April 2022. The reason for this? Experts point to the war in Ukraine, which has increased the risks associated with other factors such as the energy crisis and inflation. These new benchmark figures have caused changes to the interest rates for adjustable-rate mortgages, where the rates applied are usually the Euribor rate plus an additional margin (this is the additional interest percentage the bank charges, as its own revenue from the loan). These higher benchmark rates mean that borrowers must now make higher loan payments each month.
The Euribor (1999-2022)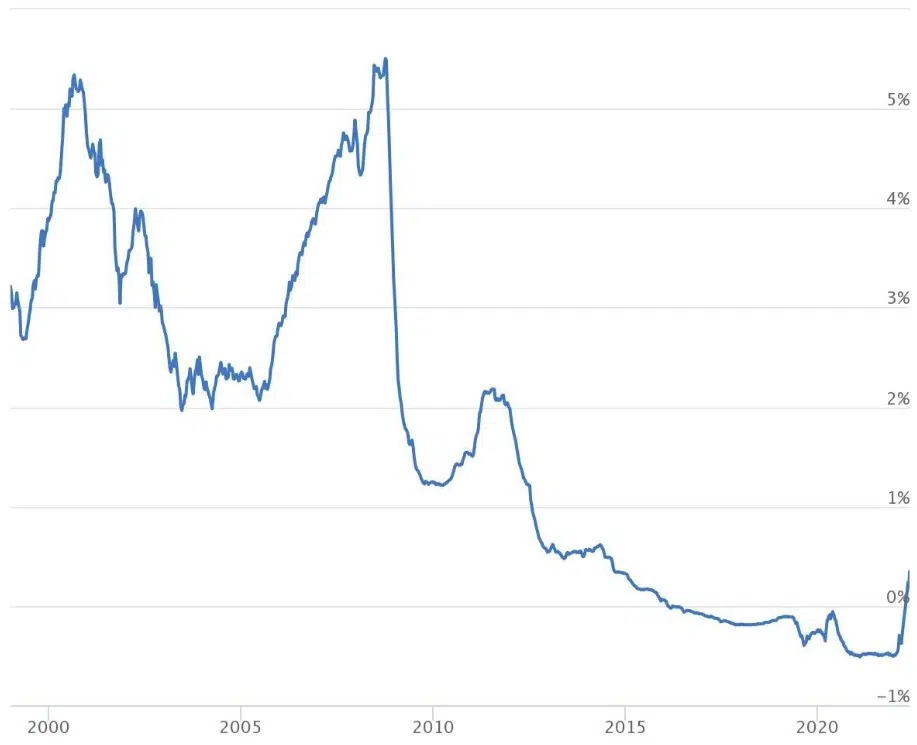 What this demonstrates is that when negotiating a mortgage loan, you need to consider not just how much of the loan's principal you will have to repay each month, but also how much interest will be charged until the time when the loan has been fully repaid. All of this is laid out on what is known as an amortization schedule. However, the following formula can be used as a simple way to calculate how much interest will have to be added to each monthly payment: Interest = (outstanding amount of the loan) x [(% interest) / 12].
Home prices per square meter
As mentioned above, 2021 was a year when the real estate industry experienced a significant recovery. As a result, home prices have increased not just on a month-over-month basis (+0.4%), but also year-over-year (+1.7%), with the average cost in Spain rising to more than €1,900 per square meter. However, there are differences seen in this variable when we compare different regions, cities, and even neighborhoods, and making these comparisons should be an essential part of any final decision you make.
The importance of this can be seen just by making a comparison between the cities of Madrid and Barcelona (and also San Sebastian, which are Spain's three most expensive places to live) and the rest of Spain's major cities. So far this year, housing sales in those three locations have represented almost 10% of the total figure.
Given this situation, it is a good idea to compare home prices, expressed as euros per square meter, based on their location. You should also look at the differences existing among average values in the particular area you are considering. This can give you a better idea of the range of prices existing on the market.
One issue that many buyers overlook is a home's orientation. Although it may seem like a trivial detail, the direction a home faces determines the way the sun shines on it, and this can have a significant effect on heating and electricity bills: a home with a good orientation can allow energy savings of up to 70%.
North facing: this is usually not the best option in Spain, because during winter, the amount of light entering the home is low, and this can considerably increase heating costs.
South facing: sunlight is able to enter during the fall, winter, and spring (and in the summer only during the hottest hours of the day). This is probably the best option in geographical areas with lower temperatures.
East facing: this is typically the most recommended option, because sunlight is able to enter until about noon, and some of the heat this produces will be stored inside the home and released over the course of the afternoon and evening.
West facing: in contrast to an east facing home, one with a western orientation will tend to have higher energy costs, especially during the summer.
Should you buy a newly constructed home, or buy from a previous owner?
This is another major issue to consider when shopping for a home: whether to buy a newly constructed home or one being sold by a previous owner. So far this year, purchases of previously owned homes has reached a level higher than those seen during the real estate bubble in 2008, and homes of this type currently represent about 80% of all real estate transactions.
In summary, both options have their pros and cons. A newly constructed home is likely to have a better energy efficiency rating and higher quality construction, although its price will also be much higher. On the other hand, previously owned homes are a more economical alternative, and they often have more central locations. On the downside, they may require additional spending for remodeling and produce higher energy costs.
In terms of financing, banks do not tend to differentiate between these two options when granting mortgages. However, when a newly built home is acquired, value-added tax (VAT) is charged on the sale price (10%), while a purchase of a previously owned home will be subject to the Spanish asset transfer tax (ITP in Spanish, also referred to as stamp duty), which will be between 6% and 10%.
Will the home's condition make remodeling necessary?
The question of whether a home will need to be remodeled or renovated is one of the most difficult to answer, but it is one that can have a major effect on the final price. Depending on a home's condition, the cost of remodeling could vary between €500 and €600 per square meter, although this figure could even go as high as €1,100 if a full renovation is performed using high-quality materials, or if the size of the home is especially large.
It is therefore important to determine whether the house or apartment you want to buy will require full remodeling or partial remodeling, or perhaps no remodeling at all.
General information about apartment buildings
In addition to their year of construction, other important information about an apartment building includes whether it has an elevator, garage parking and storage spaces, or other shared facilities. It is also a good idea to understand the difference between usable floor area and constructed floor area, because the differences can be significant.
Other information about the property
When you make a visit to your potential future home, there are many questions you should consider asking, so that if you do decide to buy, you can do so based on having full knowledge of some important details. The list below shows some of the documents, certificates, and other information related to a home, and it is important to ask questions about all of these:
Bills for Property Tax (IBI in Spanish), or other taxes that must be paid
Type of heating system
Other charges associated with the home (such as for remodeling, mortgage costs, and homeowners' association fees)
Home insurance
Number of usable square meters
Energy Efficiency Certificate (CEE in Spanish)
Habitability license
For homes more than 50 years old, be sure to check the Technical Building Inspection document (ITE in Spanish)
People looking to buy a home are usually doing so for very specific reasons. In general, there are three reasons that tend to be given by home buyers in Spain.
The most common reason is to purchase a primary residence. This is typically the reason given by people moving to a new city or neighborhood, and those moving into their own home for the first time. According to real estate industry research, this tends to be the most frequent reason among adults under 44 years of age. However, for those 45 years of age and above, the most common reason given for purchasing real estate is as a second home. While the purpose of a first home is for its use as a primary residence, second homes are typically used for vacations.
The third most common reason is more financial in nature, when buyers want to acquire a property as an investment, so it can be leased to tenants and generate long-term income. In fact, it is recognized in the industry that the financial returns that can be derived from leasing are a main motivation for investment purchases, and this makes the market more dynamic.
When the price of a house or apartment is being negotiated along with its other terms of sale, there are two other situations that are less common, but also possible: bare ownership and usufruct holder. In the first case, the existing owner transfers ownership of a home in exchange for monetary payment, but is still allowed to live in the home for the rest of his or her life.
On the other hand, an usufruct arrangement allows use of a home without the person living there actually becoming the full owner. Although a purchase is made, it is not permanent, because it only lasts until the time of the usufruct holder's death.
The need for remodeling is not the only potential headache you may face when buying a home. There are also some other additional costs that must be considered in addition to the final amount paid. Some of these are easy to overlook, but they could come to represent significant expenses.
The issue of the home's orientation was already discussed above, and some other aspects that can lead to significant additional costs include the type of heating system (central heating or heating of individual rooms), fees charged by a homeowners' association, costs for registering the property (between 0.1% and 0.25% of the price, approximately), expenses for shared facilities in condominium complexes, commissions that must be paid to the real estate agency (in cases where one is involved), and the costs associated with a mortgage loan.
RELATED ARTICLES: