Santiago Martín: "We've been able to react immediately to the challenges SMEs are facing. Their survival was at stake."
The COVID-19 pandemic is painting a particularly bleak outlook for small and medium-sized enterprises (SMEs). According to data from the Central Bank of Spain, the proportion of companies that are insolvent in early 2021 is between 14 and 19 percent. The Bank also predicts that up to 10 percent of companies have been rendered unviable. The President of the business association CEPYME has already warned that the damage is growing every day and SMEs are being pushed "to their limits." We took the opportunity to delve into the current situation with the Assistant General Manager for Companies at MAPFRE ESPAÑA, Santiago Martín, to find out more about the scope of the company's collaboration and support measures in order to alleviate the situation.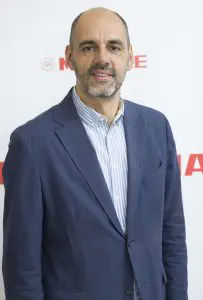 Question (Q): It's been a devastating year for small and medium-sized enterprises. Many of them have been forced to close or their survival is in doubt. What is the outlook for them?
The situation differs greatly depending on the size and business activity of each company. Also, many of them are being artificially sustained by the ERTES (temporary layoff schemes being implemented in Spain) and other forms of support. The real picture for SMEs will become clear in the coming months.
SMEs constitute over 99 percent of Spanish businesses. According to the Central Bank of Spain, 22 percent of them are in a position of technical bankruptcy. What role should European funds play in helping this group? What's the current situation?
Their support is essential, but it shouldn't merely be viewed as a subsidy. We need to seize the moment and invest in improvements, fundamentally through innovation and digitalization.
What role does insurance play as a fundamental source of support for business activity?  
As a risk transfer mechanism, insurance plays an essential role for entrepreneurs by protecting their assets, liabilities and commitments, and thus enabling them to conduct their work in a secure environment.
What has the pandemic taught us about public authorities and the role of governments?
There are many lessons to be learned from this situation. In terms of public authorities, we can point to their essential role in tackling problems where private initiatives fall short. We can also ask them for more flexibility in decision-making and, frankly, better coordination between the different spheres of jurisdiction.
"SMEs have the drive for survival in their DNA"
Do you think that the dominant trend among those that survive will be to restructure?
It's inevitable in some sectors, since many of the changes brought on by the pandemic are here to stay. But our business world is dynamic and it's already demonstrated an ability to adapt to the various circumstances that have arisen.
How important are concepts such as transformation and digitalization for any business right now? Are SMEs ready to accept what many are already highlighting as the only path forward?
I mentioned digitalization earlier. In one way or another, digitalization is the only route forward. That's why it's essential for public aid to be focused and channeled toward projects that guarantee companies' survival in the long-term.
Have SMEs been able to sufficiently train their staff at a time like this?
SMEs have the drive for survival in their DNA, and many of them took giant steps to ensure they made it through the toughest months of lockdown. These measures were underpinned by training plans that were implemented under very complex circumstances.
What is the idea in terms of the aid and support provided by MAPFRE to SMEs and the self-employed, such as advance payments to suppliers in order to maintain employment and business stability?
MAPFRE has been able to react immediately to the challenges SMEs are facing, and the company knew their survival was at stake. Over 60 million euros in premium discounts and support have been offered, payments have been deferred and income has been guaranteed to our providers. The intended outcome of these measures is none other than avoiding business closures and job losses for our clients and providers.
Give us a breath of fresh air, a ray of hope. How long will it take to get back to normal?
The vaccines that are now starting to be distributed are the light at the end of the tunnel. But it will still take some time to fully return to normal, so we need to make appropriate use of all the economic measures put in place.
If you could issue a call to action from your position, what would it be?
Currently, while we're still living through this pandemic, the main action we should take is to comply with all the guidelines given to us by the various public bodies. This will reduce the harmful effects of the pandemic and help us face the return to normality in the best possible circumstances. At MAPFRE, we're very aware of the environment in which SMEs will have to conduct their future business activities. Our goal is to adapt our products to all their needs.
Related articles:
MAPFRE and the Spanish Chamber of Commerce will help SMEs to reduce their carbon footprint and become more sustainable