MAPFRE earns 488 million euros from January to September on revenues exceeding 22.2 billion (+12.2%)
HIGHLIGHTS OF THE FIRST NINE MONTHS
Group premiums grow by 12.1% to 18.64 billion euros from January to September.
Hyperinflation drags earnings down by 52 million euros; without this effect, earnings would have grown by more than 1.3% to 540 million euros.
Reinsurance business premiums increase by 14.4% and earnings are up more than 10%.
The insurance business grows intensively in nearly all countries where MAPFRE operates.
Iberia, Brazil and LATAM South are the regional areas contributing the most to Group earnings.
LATAM earnings rise by 65% to 188 million euros.
MAPFRE will pay an interim dividend for fiscal 2022 of 6 euro cents per share on November 30.
MAPFRE's Board of Directors now exceeds the 40% quota laid down by the Spanish National Securities and Exchange Commission regarding the recommended percentage representation of women on governing bodies.
MAPFRE's premiums from January to September 2022 reached 18.64 billion euros, a 12.1% increase, after growing in nearly all countries where the Group operates and in its main lines of business. On a like-for-like basis, that is, without the effects of the biennial premium in Mexico and the Bankia exit and discounting the boost from foreign exchange rates, which contributed 5.5 percentage points to growth, premiums would have risen by 10.6%; in other words, the business still would have seen double-digit growth.
Meanwhile, revenues increased by 12.2% to 22.2 billion euros at the end of September 2022.
The Group's net earnings came to 488 million euros (-6.9%). By line of business, the strong results in the Property & Casualty and Life Protection segments stood out, while the COVID-related loss experience was less significant in all countries. Higher earnings from these lines partly offset the performance of Automobile, which was impacted by the recovery in mobility after the pandemic and the current scenario of persistent inflation. Also noteworthy was the improvement in the core financial result in a context of interest rate hikes, which should continue in the coming quarters, helping to mitigate the drop in realized gains in the equities and mutual funds. By region, strong contributions were made by Iberia, delivering nearly 300 million euros, and Latin America, where Brazil and Peru performed particularly well. MAPFRE RE continued to make a solid contribution through its two units, Reinsurance and Global Risks, achieving earnings of almost 94 million euros despite the catastrophic claims recorded this year, especially the drought in the Parana river basin, with an impact of almost 60 million euros. The total cost of the drought to the Group exceeds 105 million euros. Hurricane Fiona was also a relevant event, with a net claim cost of 22 million euros, mainly in Puerto Rico.
The combined ratio stood at 98.4% at the close of September, an increase of 1.9 percentage points, being primarily affected by the Automobile business. The 3.4-point increase in the loss ratio was partly offset by the cost-cutting plan underway, which has seen it improve by nearly 1.5 points.
This quarter, the restatement of financial statements was applied for the first time to the subsidiary in Turkey. This had a positive net effect on the Group's shareholders' equity of 30 million euros, comprising a 47-million-euro increase in capital and reserves, and a negative impact on the result of almost 17 million euros. Turkey joins Argentina and Venezuela as a hyperinflationary country, generating a negative impact, due to the restating of earnings, in the amount of 52 million euros. Without this effect in both years, earnings would have grown 1.3% in 2022.
The Group's strong business and geographic diversification is reflected in its significant increase in premiums, its stable result, and the solidity of MAPFRE's capital base. Shareholders' equity, which stood at 7.59 billion euros, showed a 10.3% decrease since the beginning of 2022, a result of rising interest rates, while ROE climbed to more than 9%.
The Solvency II ratio, to June of this year (most recently available data), stood at 219.8%, with 84% high-quality capital (Tier 1). This ratio reflects strength and stability, based on diversification and the strict investment and Group management policy.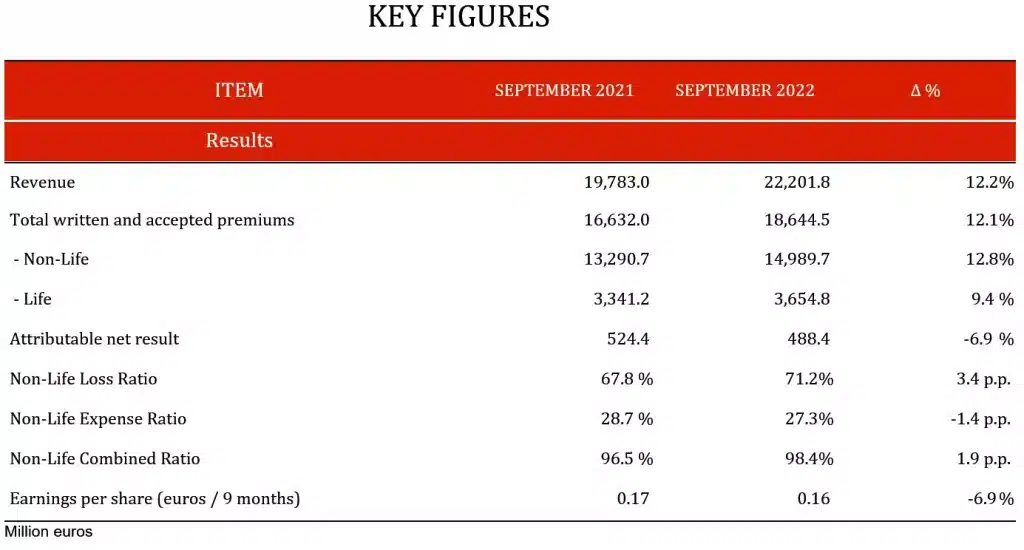 MAPFRE's investments stood at 41.73 billion euros, of which half correspond to sovereign fixed income.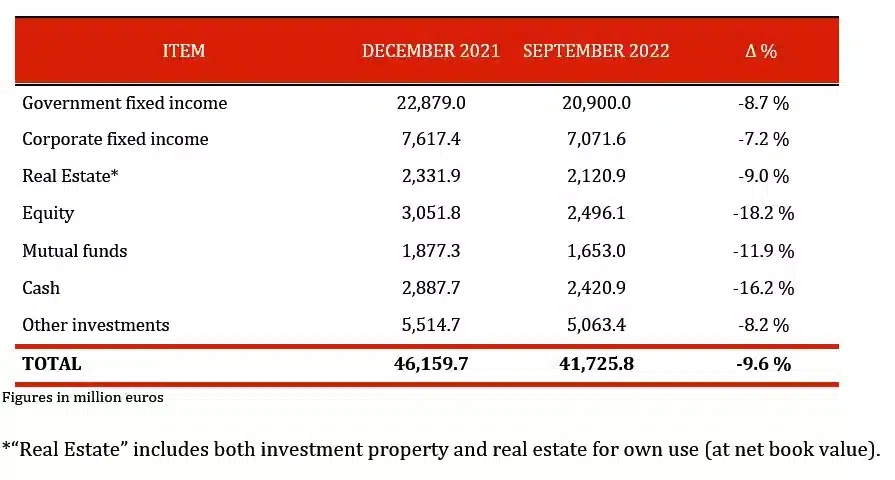 Pension funds amounted to 5.49 billion euros at the close of September (-14.6%), while mutual funds totaled 5.28 billion euros (-2.3%).
1.- INSURANCE UNIT
Insurance Unit premiums at the end of the first nine months of 2022 amounted to 15.62 billion euros, a 13.9% increase compared to the same period of the previous year.

Iberia
In the Iberia Regional Area (Spain and Portugal), premiums amounted to 5.77 billion euros, a 1.1% increase on the previous year. Discounting the effect of Bankia Vida (which recorded premiums in 2021 totaling 126 million euros), the core growth of this regional area would be 3.4%. Iberia remains the largest contributor to Group earnings, with a total of 299 million euros.
Premiums remained stable in Spain, reaching 5.6 billion euros.
In the Automobile business, premiums amounted to 1.67 billion euros, a figure similar to that of the first nine months of 2021. The number of insured vehicles rose slightly to more than 6.2 million units. The increase in the loss ratio of more than 6 points, driven by the impact of inflation on repair costs, has raised the combined ratio for this line of business.
The Property & Casualty business grew 4.6% to 1.78 billion euros, with a 3.5-point improvement in the combined ratio. Significant increases were recorded in Enterprise insurance (+10.3%), Condominium insurance, which grew 7.8%, Homeowners (+2.8%) and Health (+6.9%).
In the Life business, premiums to the end of September came in at 1.3 billion euros (-6.3%). The reason for this decline was the Bankia Vida exit from the Group scope, because without this effect, Life premiums would have grown by 3%.
Latin America
The three regions that make up MAPFRE's business in Latin America showed positive performance in terms of both insurance business growth and earnings. MAPFRE's premiums in Latin America rose 26% year-on-year, standing at 6.85 billion euros, while earnings rose 65% to 188 million euros.
Brazil:
Premiums in the Brazil Regional Area saw a 45.3% increase to more than 3.68 billion euros. This strong growth was driven by the improvement of the business and the revaluation of the Brazilian real (+18%). In terms of regional areas, Brazil was the second-largest contributor to Group earnings with 93 million euros, an 86% year-on-year increase. This was due to fewer COVID-related claims and higher investment portfolio returns, among other factors.
By line of business, Property & Casualty made the most significant contribution to the Group, with volume of 2.13 billion euros (+59.5%), followed by Life, with 1.09 billion euros (+25.8%) and Automobile, which grew 39.3% to 468 million euros.
LATAM North:
In the LATAM North Regional Area, insurance business premiums amounted to 1.65 billion euros (-5.2%). This decrease was due to the issuing of a biennial policy in Mexico for 472 million euros in 2021. Excluding this impact, growth would have surpassed 30%.
Net earnings for this regional area also grew significantly (42.4%), reaching 29 million euros, thanks to the Life Protection and Health businesses, among others, which improved considerably as the pandemic receded.
Notable contributions were made by Mexico, with 840 million euros in premiums (-24.9%), Central America, which produced 489 million euros in volume, up 27.2%, and the Dominican Republic, which grew 34.8% to 321 million euros.
LATAM South:
Premiums in the LATAM South Regional Area amounted to 1.52 billion euros at the end of September 2022, a 29.4% increase. All lines of business grew, and performance was especially positive in Life Protection (+37.7%), Health and Accident (+31.3%), Automobile (+29.7%), Property & Casualty (+28.5%) and Life Savings (+20.6%). Earnings in this regional area rose 50.6% to exceed 66 million euros.
All countries in the region recorded double-digit growth in premium volume. Peru remains the biggest contributor in terms of premium volume (531 million, +41.4%) and earnings (39 million, +171.3%) to the Group in this part of the world. Premium volume in Colombia amounted to 323 million euros (+13.7%), while earnings nearly tripled to 21 million euros. Chile also showed notable progress, with premiums growing 26.7% to 278 million and earnings of 6 million euros, a 6.4% increase.
North America:
In the North America Regional Area, premiums increased by 28.6% to 1.98 billion euros, with marked growth in the Automobile (+16.8%) and Property & Casualty (+15.9%) lines. Earnings stood at 11.2 million euros (-85.4%), significantly impacted by the Automobile loss ratio and the cost of Hurricane Fiona, which affected Puerto Rico in the amount of 22 million euros.
Premiums in the United States rose by 32.9% to 1.69 billion euros, while in Puerto Rico, business volume was up by 8.4% to 295 million euros.
EURASIA:
In the EURASIA Regional Area, premium volume was similar to that of the first nine months of 2021, reaching almost 1.03 billion euros. Germany contributed the most in terms of premium volume to the Group, with 299 million euros (+0.6%), followed by Malta, with 273 million (-6.5%), and Turkey, with 265 million (+16.4%).
2.- REINSURANCE AND GLOBAL RISKS UNITS
Premiums at MAPFRE RE, which includes the reinsurance and large risks businesses, grew 18% to 5.56 billion euros from January to September, with earnings of 94 million euros (-2%), despite the occurrence of numerous catastrophic events. Also noteworthy was the improvement in the combined ratio by one percentage point to stand at 97.5%.
The reinsurance business closed the first nine months of 2022 with 4.2 billion euros in premiums (+14.4%), while earnings were up 10.1% to 77 million euros.
Premium volume at the Global Risks business rose by 30.7% to 1.36 billion euros and earnings came in at 17 million euros.
3.- ASSISTANCE UNIT
Finally, revenues at the Assistance Unit totaled 325 million euros (-29.3%). The main reasons for this decline were the disposal of travel insurance operations in the United Kingdom and the Century operation in the United States and the sale of the business in Australia, all of which were envisaged as part of the restructuring plan.
At the end of September, this unit's earnings came to 8 million euros, thanks principally to the sale of operations. Without this effect, the contribution to the result of this business unit would still have been positive.
DIVIDEND
The Board of Directors has agreed that the interim dividend for the 2022 fiscal year of 0.06 euros gross per share will be paid on November 30.
OTHER AGREEMENTS:
The Board of Directors has ratified the appointment of Marieta Jiménez Urgal as an independent director of MAPFRE S.A., replacing José Antonio Colomer Guiu, who recently stepped down, having reached the maximum age established in the bylaws for belonging to the most senior decision-making body of the company. Marieta Jiménez holds a degree in pharmacy from the University of Salamanca. She is the senior VP for Europe at Merck Biopharma and has more than 20 years of experience working in various executive positions in pharmaceutical multinationals. She also joins the Appointments and Remuneration Committee. With this appointment, the percentage of women comprising the Board exceeds the 40% threshold recommended by the Spanish National Securities and Exchange Commission.
Antonio Miguel-Romero de Olano also joins the same Appointments and Remuneration Committee, while Ana Isabel Fernández Alvarez joins the Steering Committee of MAPFRE S.A. as a member.
Antonio Gómez Ciria will become chair of the Risks and Sustainability Committee, replacing José Antonio Colomer, and will also become a member of the Audit and Compliance Committee. Francisco Marco Orenes also joins the Risk and Sustainability Committee.
The Alternative Performance Measures (APM) used in this report, which correspond to those financial measures that are used but not defined or explained in the applicable financial information framework, can be consulted at the following web page https://www.mapfre.com/media/shareholders/2022/2022-03-22-alternate-performance-measures.pdf