An unwavering commitment to people and the planet has imbued everything we do at MAPFRE for the last 85 years. We as a company strive to take care of and protect people and assist in developing the business community of the countries in which we operate.
We believe in diversity, equal opportunities and the talent of the professionals and people in these communities. We are therefore committed to their professional development and maintain a safe, healthy, flexible working environment that promotes creativity and innovation.
For us, sustainability means:
Complying with the public commitments we have made.
Striking a balance between environmental, social and economic/governance (ESG) concerns in the medium- to long-term, and defining how these affect us and the stakeholders with which the company maintains relationships.
Managing our impact on society and identifying opportunities for sustainable development to create shared value.
These objectives are made manifest through a sustainability policy and the Sustainability Plan 2019–2021.
The sustainability policy establishes the reference framework that allows all our companies to develop and promote socially responsible behavior, irrespective of whether it is related to conventional or digital business.
This policy includes objectives and general principles of action related to topics such as compliance, human rights, fiscal responsibility, good governance, transparency, the environment and promotion of the Corporate Social Responsibility (CSR) policy. It also defines specific principles for each of the following stakeholders: shareholders, employees, providers, distributors, clients and society in general.
The Sustainability Plan 2019–2021 focuses on the global challenges to which we can contribute through our activities, taking action in the three dimensions of sustainability equally: environmental, social and governance.
The plan includes specific lines of work with actions for its development, the people responsible for carrying them out, the scope of action and indicators for its monitoring.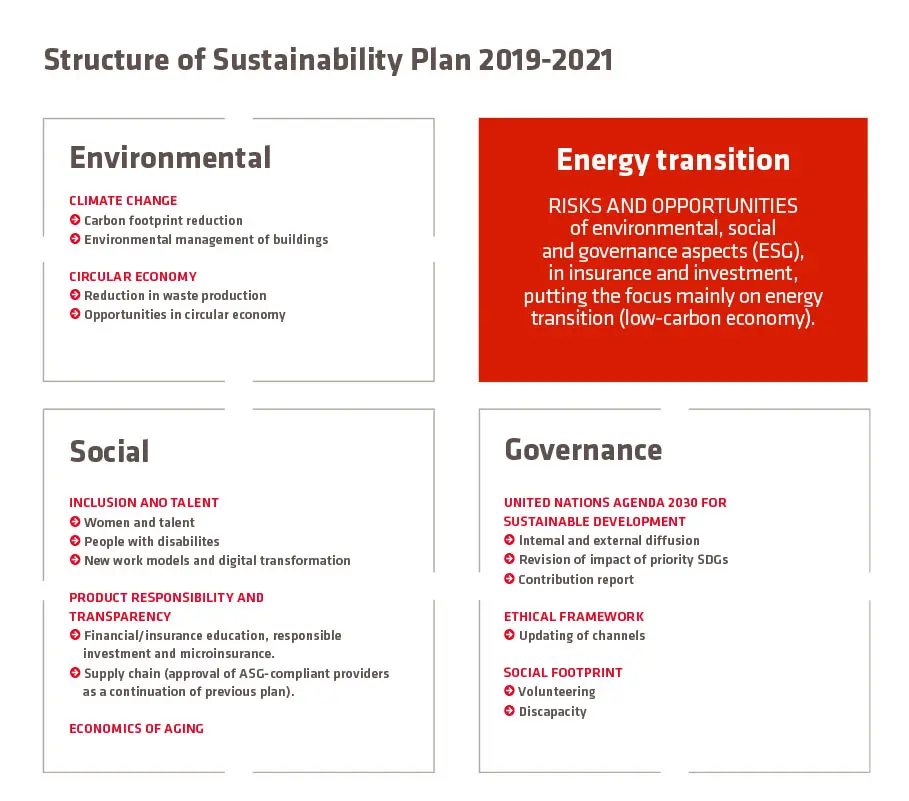 At MAPFRE, we have undertaken five commitments to sustainability by 2021.
45 percent of managerial position vacancies to be filled by women.
People with a disability comprising 3 percent of our workforce.
MAPFRE facilities in Spain and Portugal to be carbon neutral by 2021, and in the rest of the Group by 2030.
We will not invest in utility companies deriving 30 percent or more of their revenues from coal-produced energy.
We will not insure the construction of new coal-fired power plants or the operation of new coal mines.
inas.