MAPFRE has been firmly committed to people and the planet for more than 86 years, helping to construct the social and business fabric of the countries where we operate.
As a company, we have set our sights on the world and on global challenges in order to leave a positive footprint around us. Through our global activity, we strive to contribute to building a world that is more equal, just, ethical, inclusive, developed and transparent.
We therefore aspire to incorporate sustainability and social return into what we do, always thinking about the benefit of all our stakeholders. We are convinced that companies not only need to appear sustainable; they must be sustainable. That is why they need to have a purpose that goes beyond financial profit.
We accept our part in sustainable development, but we know that we cannot do it alone, nor do we want to do it alone. We need our employees, clients, shareholders, providers, distributors and society in general to join us on the path we started over eight decades ago.
Playing our part is a concept geared toward people and based on actions and small deeds. It represents the part that we must all play, the thousands of actions that contribute to the common goal of protecting the planet and people. Playing our part is the commitment made by everyone, so that together, we can continue building a better present and future.
These objectives are manifested through a sustainability policy and the Sustainability Plan 2022–2024.
Sustainability is strategic for us because each pillar of our plan allows us to continue progressing in our purpose.
In MAPFRE we take care of what matters to you and our sustainability strategy allows us to continue making that possible.
The Sustainability Plan 2022–2024 focuses on the global challenges to which we can contribute through our activities, taking action in the three dimensions of sustainability equally: environmental, social and governance.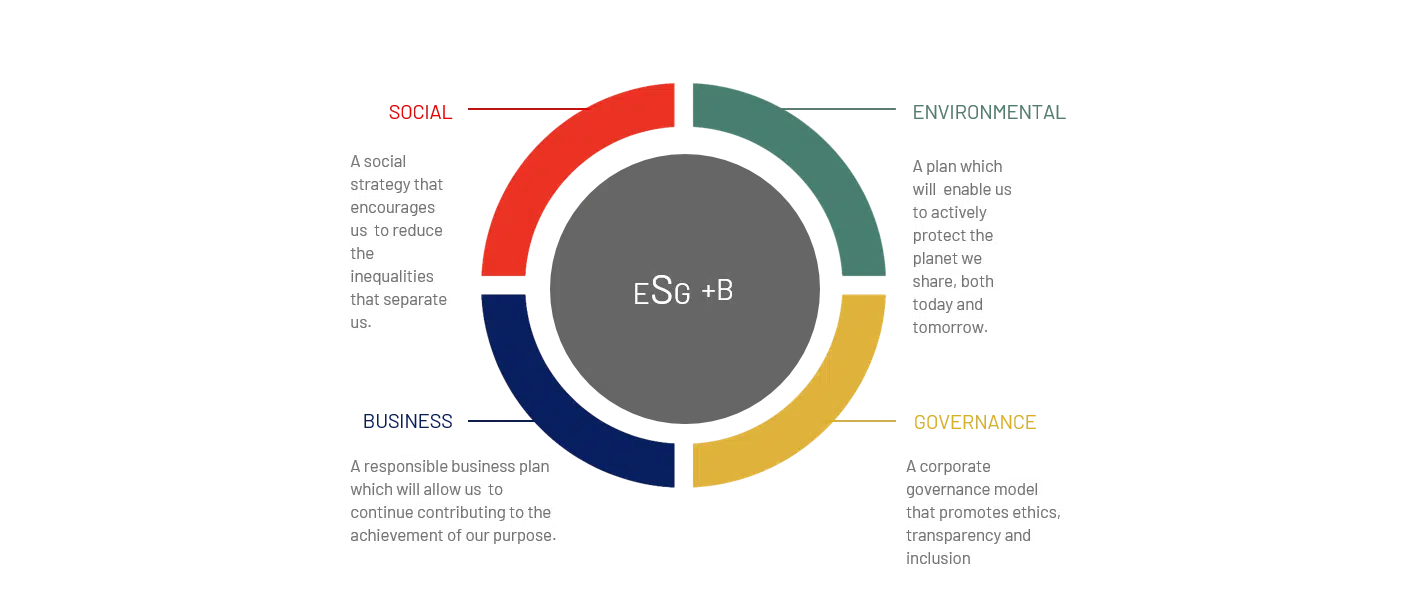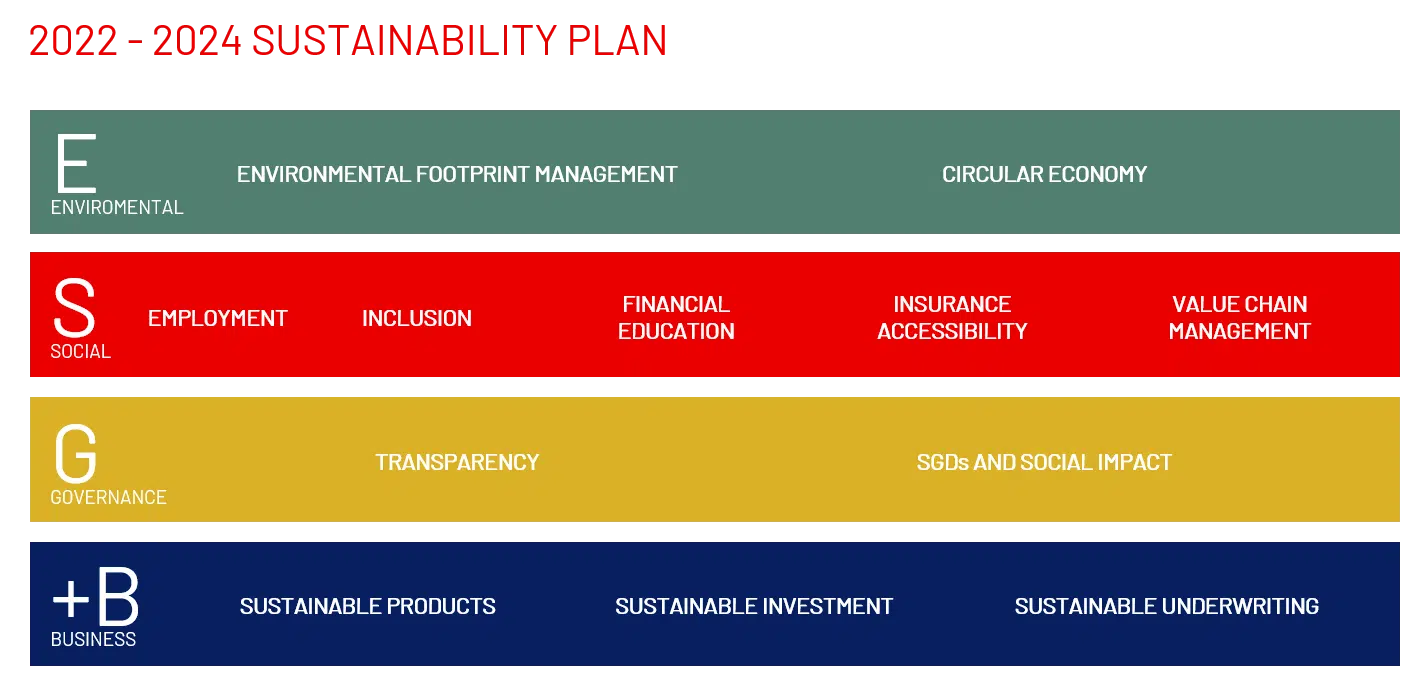 At MAPFRE, we have undertaken five commitments to sustainability by 2024.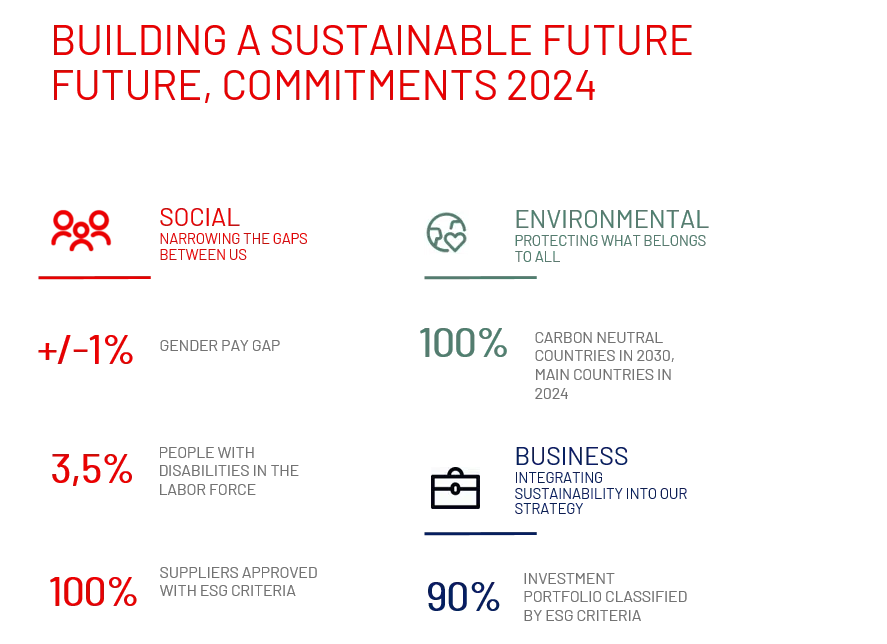 Additional commitments were also made, applicable from 2022, with the aim of remaining an active part of this necessary and urgent transformation to a low-carbon economy, in 2021 the Group has reviewed the environmental commitments assumed in terms of investment, which will be applicable from 2022.
We are fully committed to the decarbonization of the economy and we have tightened our underwriting policy, with measures including the principle that MAPFRE will no longer insure the construction of new infrastructure related to coal mines or thermal power plants. We have also stopped underwriting new risks related to tar (or oil) sands and offshore/onshore projects related to oil or gas in the Arctic.
Materiality is a process whereby a company determines what issues may affect its activities most in terms of sustainability, bearing in mind interest groups that may be affected or may affect those issues in the process. The result of this process is called "material themes."
For MAPFRE, the function of materiality is twofold. First, it is a requirement for preparing the annual report. Second, it is a tool that contributes to the internal operations of managing sustainability. In particular, it contributes to align material matters with the Group's sustainability strategy and Sustainability Plan.
In the current materiality study, the main topics related to sustainability have been classified according to two variables: impact and relevance. These two variables allow MAPFRE to understand how these topics should be managed to create opportunities and minimize risks.
For more information on the study, see the Integrated Report 2021.