SUSTANABILITY | 09.12.2020
Cristina Romera: "More than just cleaning up, urgent measures are needed to stop any more plastic going into the sea"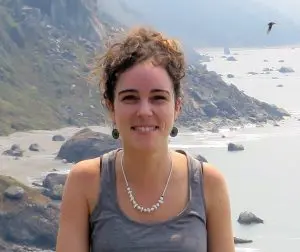 The lockdown led to a fall in pollution, ­­with a 5 percent drop in greenhouse gas emissions, according to estimates by the United Nations Conference on Trade and Development (UNCTAD). However, the pandemic has increased the long-standing and dangerous threat posed to the planet by plastic waste, due to the increased use of disposable masks and gloves. According to UNCTAD, about 75 percent of the extra plastic being used due to coronavirus is likely to end up as waste floating around in the ocean. "Surgical masks are made of various materials, including polypropylene. This type of plastic very commonly winds up in the ocean," explains Cristina Romera Castillo (Jaén, 1982), chemist and oceanographer at the Institute of Marine Sciences, part of the Spanish National Research Council (CSIC). Awarded several prizes for her research work, including the 2020 Lindeman Award 2020 and the 2020 L'Oréal International Rising Talents award, she is currently leading a project to study which marine bacteria make use of the compounds released by plastic.
For her, the pandemic has brought about a step back in the reduction of plastic use: "Masks and gloves are ending up in the sea. There are so many types of plastics there already that it's not going to make things worse. It's a problem that already exists. At the end of the day, it's just more waste and it will stay there for a long time. That's the problem." Over the years, everything that is thrown into the sea builds up in the subtropical gyres in the middle of the ocean, carried by undersea currents. These "are known as 'plastic islands', but are not really islands at all. If you go there, you don't see any plastics. They break down into very small pieces and to see them you have to take a sample and filter it."
Every year, 100 million tons of plastic waste is dumped into the natural environment and a tenth of it goes into our oceans, according to the conservation organization the World Wildlife Fund (WWF). According to Romera, plastic waste in the sea is a problem because it releases the chemical compounds that are added during the manufacturing process to make the plastic malleable and durable. "We can see what type of plastic it is, but we don't know which compounds have been added. The plastic manufacturers keep it secret and this is causing a lot of problems, not only with the masks used in the pandemic, but with all the plastic, because we don't know what it contains."
Microplastics: from the sea to the stomachs of animals and humans
This is not just a worry for marine life, but also for humans, as plastic floating in the sea absorbs the pollutants that are in the water: "These toxic chemicals can also enter the body. For example, a study in Barcelona analyzed the urine of 20 volunteers—men and women between the ages of 22 and 74—and found at least fifteen different chemical compounds that came from plastic. What we don't know is how many of them can pass through tissue or into other parts of the body; whether they have built up over time; or whether prolonged exposure to these compounds can also cause damage because many of them are carcinogens and endocrine disruptors," Romera warns. The WWF's report on human plastic ingestion warns that our food and water are polluted with microplastics to the extent that the average person ingests five grams of plastic each week.
The figure of 250,000 tons of plastic floating in the sea already sounds alarming, but in reality there are billions of tons and this is just 1 percent of everything that is going to end up there. "The samples are only taken from the surface, so only the plastic that's floating has been accounted for." More than just cleaning it up, to solve the problem we urgently need to stop any more plastic going into the sea. Because what is already there is almost impossible to clean up. What's more, we don't even know where it is. 99 percent must have sunk to the bottom." According to UN estimates, around 13 million tons of plastic are dumped into our oceans every year. If we don't act now, "plastic production will not only grow, but will double in the coming decades," the organization warns.
A step in the right direction, but more awareness is needed
The European Union is set to ban single-use plastic. From 2021, single-use products like disposable plates, cups and cutlery can no longer be sold. "This is an important advance because 50 percent of the plastic produced is single-use. But much more needs to be done, particularly on citizen awareness." To help with this, Cristina Romera suggests that before using a plastic object, people should stop and ask themselves whether they really need it, how much they will use it and whether there is a reusable alternative.
"We generate a lot of plastic waste in our daily lives and there are many things we could do without. Styrofoam trays in supermarkets, for example. We managed to live without these products for a long time. They're not necessary. Some stores have started to get rid of them to attract responsible consumers."
By the same token, when it comes to choosing a face mask, reusable ones are the most environmentally friendly option. Among these, according to the WWF, to guarantee effectiveness the mask must comply with the UNE 0064 or UNE 0065 specifications issued by the Spanish Association for Standardization and must be machine washable at least five times at 60 degrees. Gloves and masks are not recyclable. They go in the normal trash and should never be thrown in the recycle bin.
"Only 30 percent of the plastic produced is recycled. That's not a lot, and much of it can't be recycled." In addition, biodegradable plastics are not as good as they seem, as many of them are only biodegradable under certain conditions. "For them to biodegrade, high temperatures are needed. If they end up in the sea, they don't break down, because the water is too cold. So, rather than having biodegradable plastic, it would be better not to generate the waste in the first place and to find something reusable instead," explains the CSIC researcher, who dreams of helping to solve this major problem that has turned the ocean into the world's waste dump.
"We are doing studies to see if there are bacteria that consume the chemical compounds that plastic releases into the sea and that can be used in the degradation of plastic. We are currently in a preliminary phase, identifying groups of bacteria. The pandemic has brought a halt to our research. There is still a lot left to do. But this won't solve everything. The solution must involve every single one of us."