SUSTAINABILITY| 26.03.2021
Enedina González: "Companies want to speak out and be vocal about social inequalities and do something to prevent them"
For more than a decade, this 39-year-old Venezuelan architect has organized corporate events and experiences based on green energy, zero waste and low environmental impact. She operates out of For Planet, a small business specializing in sustainable events that she created in 2019 to contribute to a better world.
2020 was a difficult year for Enedina González. Right at this time, exactly a year ago and in a single day, all the corporate events, fairs and congresses that she was organizing were canceled. That was when she remembered what her grandfather once told her. "In difficult times you have two options: you cry or you sell handkerchiefs." And it's exactly this entrepreneurship, the spotting of opportunities, that she has dedicated herself to in recent months. She has also sought to implement more sustainable practices in her everyday life, being more careful about her diet and not eating meat.
So how did an architect move into the area of sustainability?
As an architecture student I was always interested in sustainable construction. I still remember how impressed I was by a course I took to learn how to build using bamboo structures. An architect knows that the best materials are those that are found locally, that you can get hold of in your immediate environment and that are already adapted to the conditions occurring in the place where they are sourced. I believe that architecture shouldn't be invasive. It should be adapted to its context to generate the least possible impact and achieve synergy with its surroundings. This is how we should think about all areas of our lives.
How would you define a sustainable event?
They are meetings with a three-fold impact (People, Profit and Planet), both environmentally and socially responsible, with the possibility of making an effort to minimize any potential impact and leave a legacy that benefits the host community and all of the individuals involved. In addition, one key word I would emphasize is purpose, because with these kinds of events we must be clear about what we want to achieve and which strategy we want to use to take things forward, to make a mark and to raise awareness about the importance of protecting the environment.
What do you think motivates clients who opt for these kinds of events?
Undoubtedly the possibility of contributing to a better world, demonstrating that your business objectives need to go hand in hand with a positive social and environmental impact and be consistent with your values. These days, companies want to speak out and be vocal about social inequalities and do something to prevent them, to demonstrate that they can offer a great deal of value to society. More than ever, the dual goals of profitability and purpose are inseparable for many companies. I believe that a sustainable event is an excellent opportunity to showcase all these values, for example by treating suppliers as true partners in value creation, by caring for people with respect and dignity and by cutting down on the use of resources.
"More than ever, the dual goals of profitability and purpose are inseparable in many companies."
What started you off in this field?
It all began when I was about seven years old and my parents took me to the Children's' Museum in Caracas, my hometown, where I participated in a recycled paper workshop. I never forgot it. Years later I set up my own company, which specialized in wedding planning and corporate events. One day I noticed there were these three trucks full of trash that were leaving the hotel where I had organized two simultaneous events. I felt so bad that I committed myself to doing something about it, and I started designing outdoor furniture that was made of industrial waste materials, such as metal barrels, truck wheels, packaging boxes and so on.
What were your first experiences with sustainability?
I focused on reducing or eliminating waste and using local products and suppliers. The first event I organized based on these principles was a sustainable fashion event, which was a success.
What other advantages, besides preserving the environment, do you think there are when a company or a private individual organizes events of a sustainable nature?
Really, these kinds of events go beyond protecting the environment. They make it possible to support local trade, create alliances with companies with the same values and foster engagement with attendees. They are totally inspiring and carry the message that we can change the world together. And that's priceless.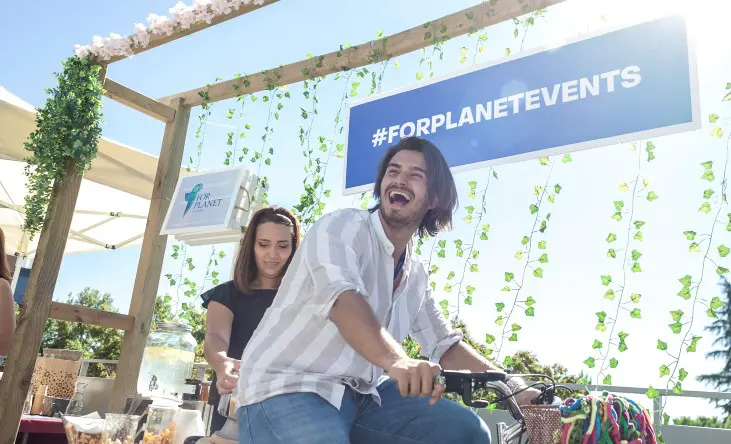 "People are becoming increasingly better informed. I believe that future generations have sustainability in their DNA."
Do you think there is an increasing global demand for these types of events? Which countries or sectors are most committed?
There's definitely more demand for them. People are becoming increasingly better informed about what's sustainable, what's good for the planet and what isn't. I believe that future generations have sustainability in their DNA and companies know it, so they promote and implement sustainability across many of their processes. Sustainable events are an unbeatable vehicle for delivering the message, and I think Germany and France are leading the way.
Imagine that we are all vaccinated and to celebrate you organize a party with more than 50 friends. What factors would you take into account?
First of all, it would be a thank you party, out of gratitude for what we have been through and learned, but also to show that celebrations cannot be like what they were before. I believe that we must move forward, so it would obviously be an event where refuse is well managed and hardly any waste is produced, where organic, local and seasonal produce is used and where assistants are provided with clean transport options, to help reduce their carbon footprint.
What role do you think large companies have in preserving the environment and looking after their local area?
Large companies can make very small changes that mean a lot for the environment. They also have a lot of communication power and can set an example to their interest groups, starting with their employees.
How do you take care of the environment in your everyday life?
Perhaps I am a little radical because I no longer eat products that come from animals, except organic eggs. I act in lots of small ways at the everyday level, which when combined have a genuine impact. For example, I make my own cleaning products, use natural cosmetics in reusable or recyclable packaging and I buy unpackaged food, which is mainly organic and from local markets. I also try not to buy more than I really need. I calculate and offset my carbon footprint by planting trees and I give presents that have some sort of sustainable component. My catchphrase is reduce and reuse as much as possible.