"There's no magic potion when it comes to designing an open innovation model"
Carlos Cendra, MAPFRE's scouting supervisor explained the MAPFRE Open Innovation model at the Demoday Rising Up in Spain event, which was organized by the Instituto de Comercio Exterior (ICEX).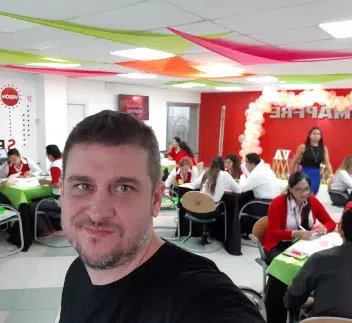 Carlos Cendra, the scouting supervisor at MAPFRE
, explained MAPFRE's innovation model (
MAPFRE Open Innovation, MOi
) in a
webinar
organized by ICEX, in which he spoke alongside
Alberto Pintado
, Senior Manager at Indraventures, and
Jokin Lopetegui,
Head of CAF Startup Station.
Cendra discussed the three areas of Open Innovation on which MOi focuses its efforts: collaboration with Universities -and he mentioned Insurtech Venture Lab, which was launched with IE-, MAPFRE's participation as an anchor investor in Alma Mundi Insurtech, a venture capital fund specialized in Insurtech, and insur_space, the "Fast Track to Market" program with startups that will launch its fourth call for proposals at the beginning of next year.
Insur_space supports startups by creating a favorable environment to facilitate the relationship with a large corporation; streamlining processes, shortening time frames, making available to them MAPFRE's 26 million customers, access to anonymized data and, of course, assuming the cost of the pilot for up to €100,000. Once these pilot projects are completed, results are measured over a given period, and a decision is made as to whether or not to send them into production.
Support is given to projects that are aligned with the strategy and oriented to a product or service design related to MAPFRE's business. With respect to how Innovation works with the company's business areas, Cendra notes that "Internally, what we are looking for is active sponsorship within the company's business areas. Committed sponsors who invest time, make their team available and assume key roles in a joint commitment to a specific project."
When it comes to lessons learned, Carlos Cendra admitted that there is no magic potion: you have to test, measure and see what works and what does not. Internally, this means having a mindset that views innovation as part of the company's global strategy. It should not be used as a discursive element. Rather, we must "seek the alignment" of innovation initiatives with the company's strategy.
In the same vein, he stressed the importance of being patient, "because it takes time to build a reputation and find small victories until the organization sees the value that your actions bring, so as to gradually make innovation initiatives an intrinsic part of the company's strategy."
"You need to have a clear picture of what kind of startups are the best fit for the organization. Each corporation has its own characteristics, and we're probably at different stages of maturity in our programs. So each corporation may find similarities in the type of startups with which it's easier to launch successful collaborations, including their level of technological maturity, level of funding, geography and team size," he continued. "There are cultural cues, or certain business cues for which not just any option will do."
It is important, as is the case at MAPFRE, to have the support of senior executives to align the entire organization.
Innovation is essential. Either you innovate, or you're out, it's as simple as that.