As expected, the 20th congress of the Chinese Communist Party culminated with the announcement that Xi Jinping would serve a third term as the Party's General Secretary, shattering the existing tradition of a two-term limit on the Presidency.
Xi's coronation had been in the works since 2018, when the constitution was amended to remove the country's two-term limit on the presidency. Through this change, Xi has become one of the most powerful leaders since the founding of the People's Republic of China.
As such, his appointment was not as big a deal in terms of news as was the naming of the seven people who were chosen to hold office in the Central Committee. This Committee's membership clearly demonstrates Xi's intention of wiping out any remaining rivals from the Party's different factions, surrounding himself with his most trusted acolytes, those who are unquestionably loyal to his politics and ideology. Up to 25 officials with ties to the previous General Secretary, Hu Jintao (who was shepherded out of the Congress for alleged health reasons), stepped down from the Party's Politburo despite being young enough to remain in office. This group included highly important leaders such as Li Keqiang, who had been Premier until the current moment, or Liu He, Director of the Central Financial and Economic Affairs Commission Office, who is regarded as the architect of China's recent economic growth. To replace them, Xi has chosen a group of like-minded politicians, including especially notable figures such as Li Qiang, who took Li Keqiang's place as Premier despite having no previous experience in a high-level position in the central government; or He Lifeng, head of the National Development and Reform Commission. Perhaps the most important role yet to be determined is that of the Governor of China's Central Bank, which Yin Yong seems well-positioned to take on. Yin, with a degree from Harvard University, has the skills needed to carry out the duties of a Central Banker, but he would have little control over decision-making given that China's Central Bank lacks autonomy.
The most important long-term issue left unresolved by the end of the Congress was who would be Xi's successor. No selections that could be labeled as part of a "new generation" (a focus applied by Xi Jinping's predecessors in the role) were made, and the majority of those appointed are over 60 years old, making their chances of becoming viable successors slim. This may even suggest that Xi is planning on serving a fourth term, which could lead many to perceive an increased risk of instability if his political agenda falters or his health worsens.
Economic development will continue to be the country's main priority
Since 2014, Xi has argued on many occasions that China's security is just as important as its economic development, and that Chinese citizens must prepare themselves for a new normal characterized by lower growth. Xi's increasing power and the membership of the Central Committee could make it seem as if the Chinese Government will begin to turn its focus to social issues, or to letting the concept of "Common Prosperity" reach its maximum potential, leaving politics focused on growth and innovation behind. However, as Gonzalo de Cadenas explains, "since China's reform and opening-up in 1978, the increasing prosperity of Chinese citizens has been the Communist Party's basis of legitimacy, and it has allowed them to wield a stronger influence over global politics." This makes it doubtful that Xi himself will pursue policies that could stifle the country's economic growth.
Nevertheless, the Chinese leader called upon his party to fight against "unbalanced and inadequate development" in the country, and to satisfy "the people's yearning for a better life." Though GDP growth objectives were not mentioned, Xi emphasized the importance of higher quality growth and reaching GDP per capita levels on par with mid-level developed countries by 2035. Some analysts have ventured to predict that China will need annual growth of 4 to 5% to meet this objective, meaning that the government will have to boost growth and thus counteract the damaging effects of the housing crisis, an aging population, and geopolitical tensions.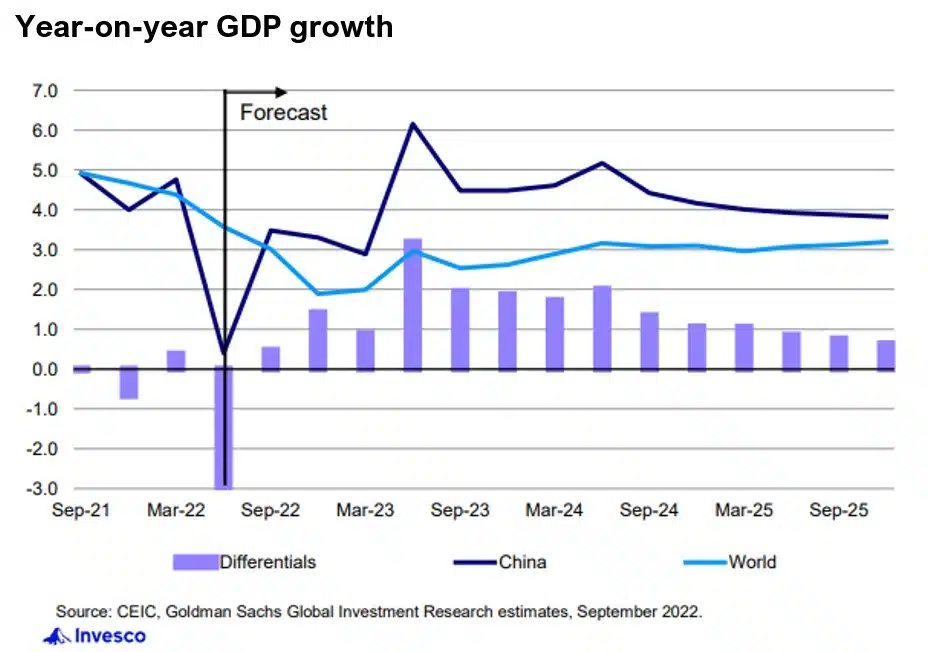 National Security has also become a top priority. Beyond the quick reads that proliferated on the geopolitical implications in Taiwan, the concept of security includes many more elements than just defending the island known as Formosa. As such, secure supplies of semiconductors, the manufacturing of batteries and electric cars, renewable energy development, and the expansion of the biotechnology or the artificial intelligence industries will be the economic sectors with the best opportunities for growth in the next five years.
Many were eager to know if China would finally abandon its Zero-Covid policy. But none of what happened during the Congress could lead us to think that this will change in the next few months. It is true some progress has been made toward a total reopening of the country, such as resuming the issuing of domestic group tour visas for visits to Macao, the announcement that Chinese airline companies would increase the frequency of international flights, or even the decision to hold the Beijing marathon on November 6, after being canceled in recent years. Xi himself will travel to Bali and Thailand in the next few weeks, his first international trip in months. But if any changes to this anti-Covid policy are going to occur, they will happen at a much more gradual pace than many expected.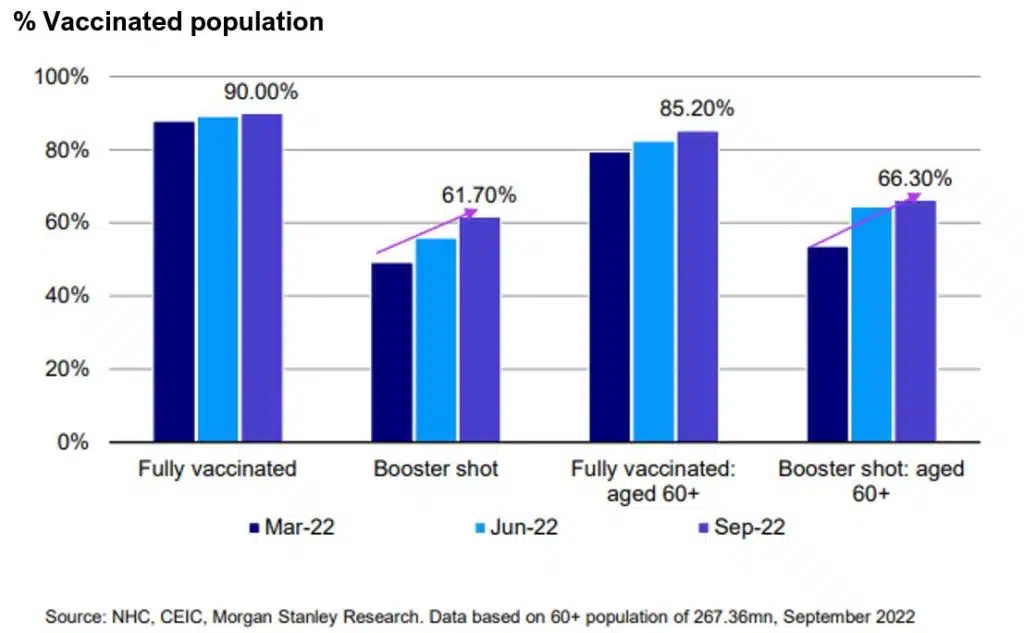 On Monday October 24, markets reopened after the weekend close with losses of 6.4% and 14.4% in Hong Kong's Hang Seng Index and the Golden Dragon index of US-listed Chinese shares, respectively. These falls mean the Hang Seng has fallen 50% from its peak, having plunged to its lowest levels since 2009, thus wiping out more than a decade of gains.

The reasons behind Monday's abrupt losses were striking, given that neither the political nor the economic climate in China have changed since the National Congress of the Communist Party. Xi's election as President for a third term and weaker growth figures (3.3% vs the 5.5% objective) had been completely discounted by the market. In fact, concerns leading up to the Congress were that higher GDP growth figures could cause the country's authorities not to adopt fiscal or monetary stimulus policies. Hence, the market's reaction was not to an economic or political surprise, but to the disappointment that there was no surprise at all. Many investors (ourselves included) had hoped that the Congress would mark a turning point in some of the policies that had driven down the prices of some listed Chinese companies to very low levels, which did not occur in the end.
What has become clear is that Chinese companies deserve a lower valuation multiple than their historic average. In fact, this was already happening in terms of P/Es before the Congress itself: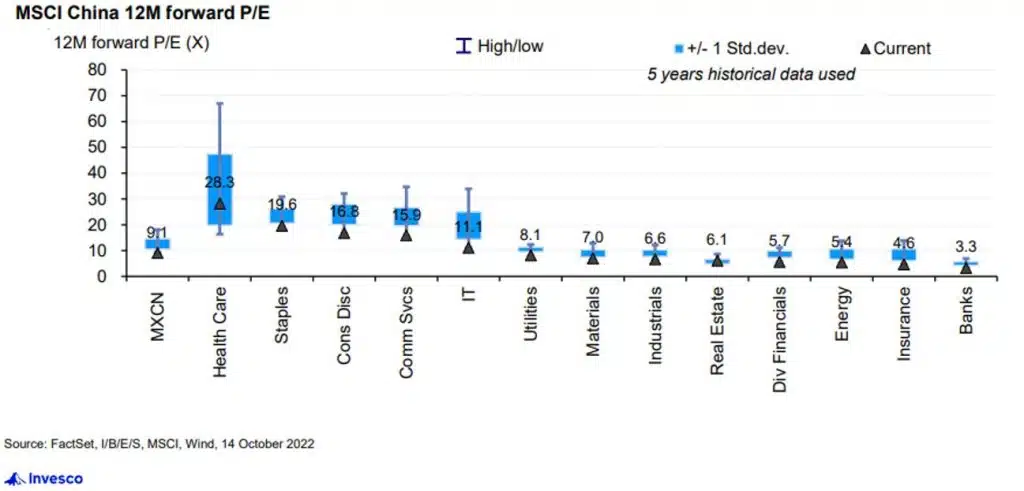 In terms of flows, capital outflows from Chinese stock markets continue, mainly due to foreign investor selling (an estimated 80% of the total), while local investors are net buyers. It must be emphasized that Chinese company fundamentals are still quite resilient, and sales of shareholdings are being transacted indiscriminately, thus generating investment opportunities for those with patience. Outlooks are still quite negative, but the Chinese economy is shifting toward normalizing activities like consumption, investment, and services after having been greatly affected by lockdowns. New regulations may continue to be introduced, but the worst seems to be behind us, and China is not facing the inflation problems found in the West.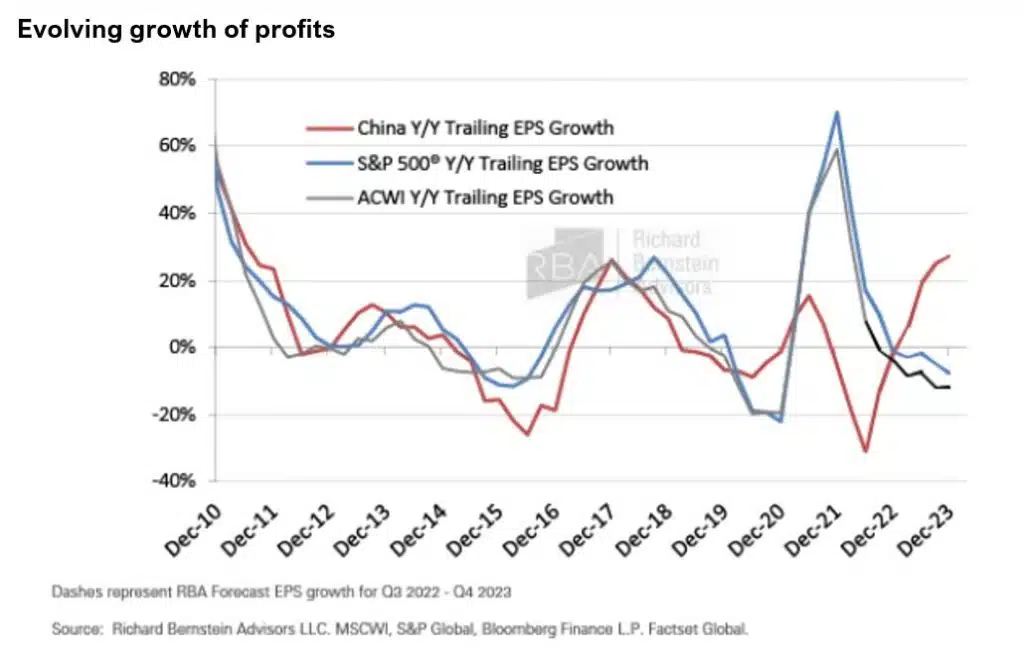 Though uncertainty is set to continue for the next few months, the fund managers we spoke with are focusing on identifying those sectors and companies with the most to gain from the priorities of the Chinese Communist Party's new leadership, both in the medium and long term.