The challenge of caring for the client in a pandemic year: the MAPFRE "heroes"

March 14, 2021 marked one year since the State of Emergency was decreed in Spain, resulting in the population being locked down for almost three months. It was a very complicated year for all sectors of society in which MAPFRE continued to serve its clients, adapting to a new reality and guaranteeing the safety of its employees, providers and policyholders.
This situation confronted us all with the formidable challenge of adapting to the unknown. From the very beginning, MAPFRE began to modify its protocols very quickly to maintain its customer service for emergency services, even in the most difficult situations, while taking the necessary steps to prevent the spread of infection.
The company's high level of digitization and the commitment of all employees made the "new normal" of teleworking a reality in just a few weeks for nearly 90 percent of the workforce and many collaborators, who worked from home, dealing successfully with all the complications.
However, customer service in an insurance company doesn't allow for teleworking in certain teams, who must continue to provide their services face-to-face alongside the client, wherever they are needed. To do this successfully and at the same time protect the health of all of the company's collaborators, significant effort and a very agile response were needed, practically in a matter of hours, to develop new protocols guaranteeing safety and allowing collaborators to continue to solve the urgent needs of clients.
The work of MAPFRE's providers was essential to continuity of service. Their contribution to the fight against the pandemic went above and beyond, as more than 110 company collaborators participated in the assembly, adaptation and expansion of field hospitals being created against the clock to provide care for Covid-19 patients.
La aseguradora atendió a lo largo del confinamiento un total de 90.000 servicios urgentes en hogares, incluidos aquellos en los que había un positivo de Covid-19. Para ello desarrolló un protocolo de desinfección y protección de los proveedores específico contra el virus, de forma que los profesionales van provistos de todo el material de protección necesario en estas situaciones y acompañados de una empresa especializada que desinfecta la zona de trabajo y todas las zonas de paso, antes y después de su intervención.
During the lockdown, the insurer provided a total of 90,000 urgent services in homes, including in those with a positive Covid-19 diagnosis. To do so, MAPFRE developed a specific protocol for disinfecting and protecting providers against the virus, providing professionals with all the necessary protective equipment in these situations and ensuring they were accompanied by a specialized company that disinfected the work area and all the passageways, before and after their work.
This procedure ensured the continuity of urgent customer service and ensured that professionals were protected. MAPFRE providers have provided around 100 such services since the pandemic began.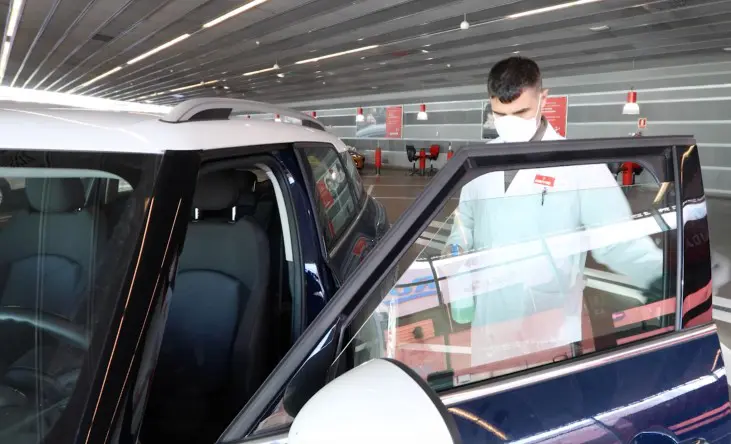 The health protocol that was applied in homes and automobiles was also extended to other areas of the company. In fact, 350 MAPFRE buildings in Spain, including direct offices, medical centers, sites, etc., have received the AENOR certificate as premises in which safety measures are applied against COVID-19.
Throughout this very long year, health workers have undoubtedly played the most important role in the fight against the pandemic. The activity of the 15 MAPFRE Medical Centers has also been essential. During the months of lockdown, they made more than 45,000 calls to elderly people and other patients with various conditions to monitor their health status. Since the beginning of the pandemic, they have conducted nearly 27,000 screening tests for Covid-19.
These centers were forced to face the great challenge of implementing the new services that the company required as a result of the pandemic. These new services included respiratory physiotherapy for treating the after-effects of COVID, using the new videoconferencing service, through which over 1,300 consultations have been carried out, mostly for mental health conditions and post-Covid follow-up, with nearly 2,000 patients treated. While responding to these new requirements imposed by the virus, the centers had to be reconfigured to be able to care for patients with other types of conditions without putting the medical staff or the patient at risk. Without a doubt, this was an enormous challenge in terms of adaptation and innovation, with totally dedicated personnel.
The role of Savia, MAPFRE's digital health app, has also been very important during the crisis, offering free services during the lockdown and receiving a total of 315,000 consultations in the last 12 months.
We have certainly faced one of the most difficult times in our history as a company. At MAPFRE, the company's professionals and employees became genuine everyday "heroes" and gave even greater meaning to words like 'empathy,' 'trust,' and 'vocation for service' that were already part of our day-to-day life. We are grateful to them for their efforts, which made our daily activity more meaningful than ever.