Fundación MAPFRE increases aid to Mexico to alleviate the impact of Covid-19
The Foundation has just donated more than 37,500 kilos of food to 9 food banks nationwide to reduce malnutrition and social exclusion. It will carry out several projects to promote women's entrepreneurship and to help integrate people with visual disabilities into the workplace. The entity this year has increased its extraordinary budget in Latin America to 10 million euros to combat poverty and social exclusion.
Fundación MAPFRE has approved an extraordinary budget for 2021 in order to tackle the emergency situation and socioeconomic crisis that Mexico is experiencing in the wake of COVID-19.
This aid is part of a total provision of 10 million euros for Latin America, which will be used by Fundación MAPFRE to undertake a total of 47 projects, through which it hopes to help some 168,000 people.
In Mexico, the Foundation will carry out various activities to help reduce malnutrition and social exclusion, and to promote employability, education and entrepreneurship. These activities will be carried out in collaboration with Fundación MAPFRE's network of volunteers and social organizations, such as Banco de Alimentos (Mexican food bank organization), the Cozumel foundation (community development foundation on the Mexican island of Cozumel), FOAL (Fundación ONCE para América Latina — foundation supporting blind people in Latin America), and Altitud (Mexican social platform helping SMEs), among others.
More than 37,500 kg of food
The COVID-19 pandemic will bring about an unprecedented food crisis affecting more than 85 million children in Latin America, according to the FAO. According to OECD data, Mexico has the second-highest level of economic inequality worldwide, with 46.2 percent of the population (55.3 million Mexican nationals) living in poverty, 11.4 million of whom live in extreme poverty.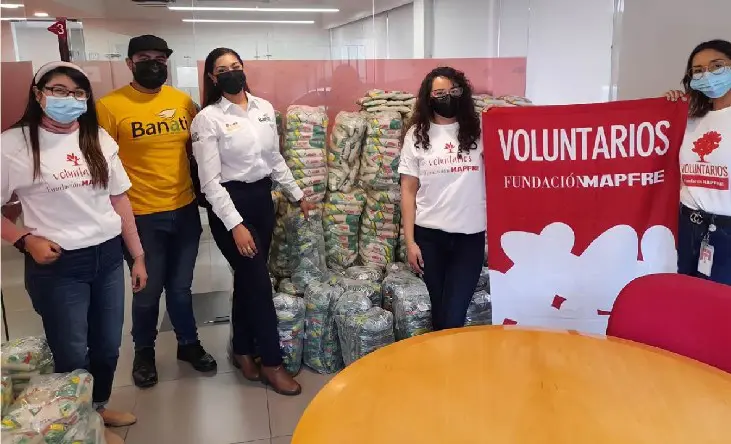 Fundación MAPFRE has just donated more than 16,000 kilos of rice and 21,250 kilos of beans to 9 food banks across the country — a project that it has carried out by calling upon its network of volunteers, 433 in total, to assemble nutritional packages, label the deliveries and then distribute them to the most vulnerable families. The aid for this project exceeds 31,000 euros.
Entrepreneurship training for women
Fundación MAPFRE will also contribute to the economic recovery of vulnerable families, paying particular attention to women in the Latin American countries with the worst unemployment figures, including Mexico. Specifically, it has allocated 125,000 euros to the launch – in collaboration with the local Cozumel Foundation – of entrepreneurship training for 126 women in the cities of Cancun, Monterrey and Guadalajara. The course includes the realization of a team project, which will last six months, and may benefit more than 2,500 people.
Meanwhile, in collaboration with Altitud, the Foundation will support mothers and heads of households in indigenous communities who live in the metropolitan area of Nuevo León state, with a 35,500 euros allocation, so they can purchase sewing machines and thus enabling them to start up workshops in their homes and achieve greater economic independence.
Inclusion and disability: Protecting your rights
Integrating people with any type of disability into the workplace is another objective that Fundación MAPFRE set itself for 2021. These people, who are among the most affected by the pandemic in Latin America, live in places where there are hardly any social programs to help them. In that regard, the Foundation will deploy activities in 11 countries across the region, including Mexico, where it has set itself the specific objective of helping people with disabilities—who have been worst hit by COVID-19—to enter the labor market.
It will also promote actions to help integrate people with visual disabilities in the workplace through a three-month course, as well as traineeships in local companies, and, in collaboration with FOAL, it will provide job positions for people who carry out these traineeships.
Antonio Huertas: "No one can stand in the way of solidarity"
"We hope things will change and for the better. No pandemic is going to stop us from keeping our commitment to social progress," said Antonio Huertas, President of Fundación MAPFRE, who referred to this extraordinary provision of 45 million euros over two years as a "plan aimed at saving as many lives as possible and protecting the most vulnerable in society and those fighting coronavirus on the front line." He also noted that the Foundation, which in 2020 had suffered its "greatest challenge" since being established 45 years ago, is also supporting research and helping prevent the social consequences of the virus from increasing the effect of poverty and inequality, thanks to the help of its volunteers, who will help them again in this endeavor. "When it comes to solidarity, once the ball gets rolling, there is no stopping it," he said.