Fundación MAPFRE collaborates in the construction of a field hospital in Colombia
Fundación MAPFRE has joined ten other Spanish and Colombian organizations in the "Ayudar nos hace bien" (Helping does us good) campaign, which, among its objectives, aims to provide food to the most vulnerable families in Colombia and help build a field hospital for treating coronavirus patients.
The hospital, with a total investment of about 230,000 euros, has been operational since this month of October in Bucaramanga (Santander, Colombia) and has 30 beds and medical supplies necessary for basic care.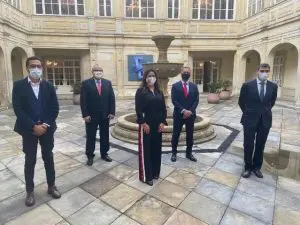 According to Colombia's first lady, María Juliana Ruiz, the local city hall will be responsible for its functioning and for providing medical personnel with the necessary supplies.
Once the pandemic has been overcome, this mobile emergency center will be donated to the Colombian Army.
Banco Santander Colombia, Fundación Santo Domingo, Seguros Bolívar, Fundación Sacyr, Colsanitas, Amarilo, ENGIE, Cuatrecasas, Brinsa, and Leonisa also form part of the alliance, called "Juntos por la vida" (Together for life).
"We are aware of our role," said Pablo Jackson, Fundación MAPFRE's representative in Colombia, within the framework of this alliance that seeks to "pull together" and join forces to overcome the current situation.