MAPFRE Economics upgrades forecast for global economy to 2.9% in 2023 but foresees "more persistent" high inflation
Prices to remain above 6% in 2024 amid heightened geopolitical tensions.
Gaps are widening within the group of developed economies, with the United States performing better at the expense of the European Union.
The dichotomy between economic activity and prices that marked the start of the cycle of global monetary tightening has shifted, now presenting greater balance between the two variables. However, this is subject to an increasingly challenging and tense environment on the geopolitical side, specifically the risk of an additional obstacle with the spike in energy prices due to the current conflict in the Middle East.
Against this backdrop, MAPFRE Economics is raising its growth forecast for the global economy by two tenths in 2023, to 2.9%, and is lowering it by one tenth in 2024, to 2.2%. That is what is shown in the report Economic and Industry Outlook 2023: Outlook for the Fourth Quarter, prepared by MAPFRE Economic Research and published by Fundación MAPFRE.
With respect to inflation, the changes are more pronounced, resulting in more benign average inflation in 2023 (6.6% vs. 7.0% in the previous quarter's report), but followed by a trend towards greater persistence in 2024 (6.1% vs. 4.9% previously). "The forecast continues to point to a stagflationary dynamic, with growth slowing, monetary policy supporting the tightening of financial conditions and inflation entering into a more prolonged and sustainable moderation phase, although still far from target levels," explains Manuel Aguilera, general manager of MAPFRE Economics.
This scenario is compounded by a series of growing regional divergences, different cyclical moments and different ways of applying the economic tools at hand, thus exposing a vulnerability gap and very unequal margins for action. All this, in the face of the persistent or transitory uncertainty of a geopolitical situation that is casting a shadow over the outcome of the possible scenarios. This means, for example, that in 2023, the United States is performing better than expected. So MAPFRE Economics has revised its forecasts upwards and they now stand at 2.3% growth in 2023 and 0.6% in 2024, "eventually achieving the much desired, but not obvious, soft landing." On the other hand, in the Eurozone, leading indicators point to a cooling of economic activity levels, especially in industry. As a result, Economic Research is forecasting growth of 0.5% for 2023 and 0.7% for 2024 (one and three tenths of a percentage point less than the previous estimate, respectively).
The Spanish economy, meanwhile, has been more resilient than other European economies, in a context of higher financial costs and a trend of credit contraction. So, MAPFRE Economics has improved its GDP forecast for the year as a whole by three tenths of a percentage point, from 2.2% to 2.5%, although its forecast for 2025 has worsened by six tenths of a percentage point, from 1.9% to 1.3%.
"Gaps are evident mainly within the group of developed economies, with the United States performing better to the detriment of the European Union, whose weaknesses are becoming entrenched, but also in emerging markets given both the weakness of China, which has not yet managed to sustain a convincing recovery, and the latent vulnerabilities in certain countries, mainly in Latin America and the Europe, Middle East and Africa region," adds Aguilera.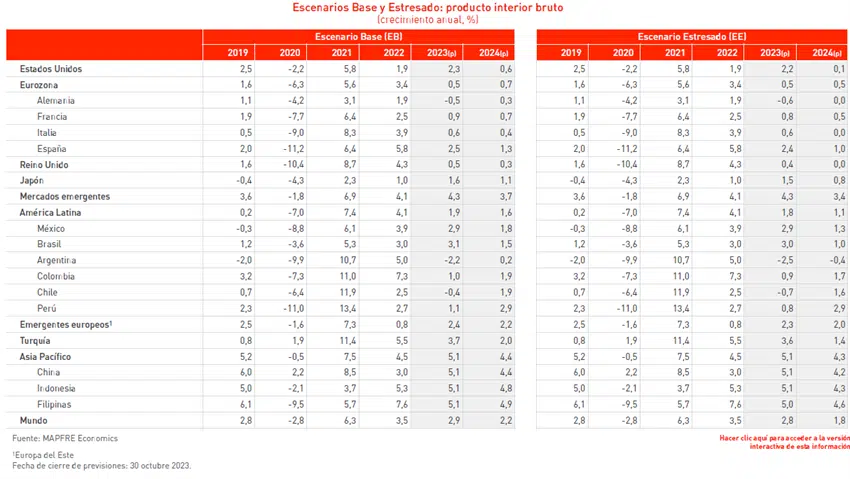 Impact on the insurance industry
This macroeconomic context poses a scenario for insurance of lower growth in business volume, which will affect its more cyclical and credit-linked lines of business, such as Motor and Life insurance. Still, profitability is expected to improve as insurance premiums are revised upwards to adjust for inflation, cost growth eases and financial income continues to be supported by interest rate increases. Higher interest rates are encouraging the growth of the life insurance business linked to savings.
Click here to view the full report