TRANFORMATION | 06.03.2020
Younger generations want to enjoy working, not surrender their lives to a company
Victor Küppers has a bachelor's degree in Business Administration and Management and a doctorate in Humanities. He teaches at both the University of Barcelona and at the Autonomous University of Barcelona.
Victor—from Eindhoven in the Netherlands and now based in the Ripollès region of Catalonia in Spain—is dedicated to vocational training. In recent years, he has become a leading lecturer in the field of positive psychology, though he does not consider himself an expert. One of the mottoes that he goes by is that in life, we have to try to be normal. He shared this and other musings with us recently.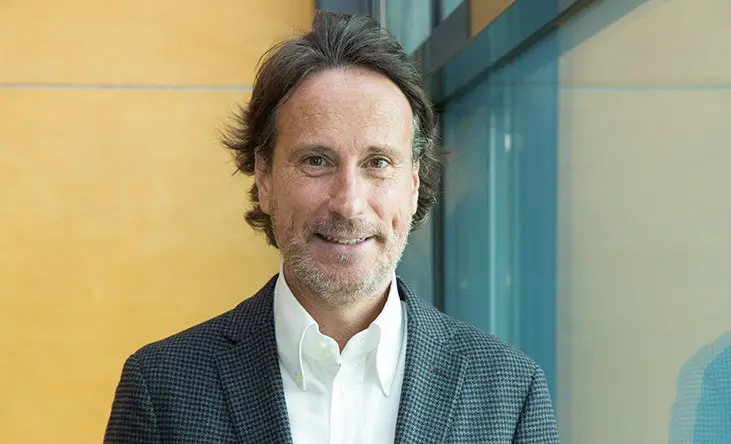 En un momento en el que la Organización Mundial de la Salud (OMS) se está planteando incluir el burnout, síndrome del trabajador quemado, como un problema asociado al empleo o al desempleo, Küppers nos hace reflexionar sobre lo que es realmente importante.
Cuando se dirige a un auditorio trata de transmitir que en la vida no son tan importantes los conocimientos o la inteligencia, sino la actitud con la que se afronta la vida. Personalmente, lo que más le importa es encontrarse con buenas personas, resilientes; personas a las que ves y dices "guau". Esto tiene que ver con la calidad humana y no con el cargo que se ocupa ni con la experiencia.
Este síndrome del desgaste emocional, como se cita en la nueva clasificación de la OMS, está asociado al estrés crónico en el trabajo. Se caracteriza por una despersonalización de las tareas, un desgaste emocional y físico, y bajo rendimiento. Los expertos estiman que el burnout afecta al 10 % de los trabajadores y, en sus formas más graves, a entre el 2 % y el 5 %.
"Me quedaría con que las mejores cosas de la vida son casi gratis."
Para no verse inmerso en estos efectos, lo importante es ser feliz; aunque el término pueda parecer naif, no lo es tanto. No se debe caer en el concepto de que la felicidad es gratis como algunos afirman; para Küppers, no todo lo que nos hace felices es gratis, para tener bienestar necesitamos dinero. Solemos caer en el dicho de que el dinero no importa; claro, eso es así para quienes han conseguido un nivel mínimo de bienestar.
La importancia reside en poner el foco en las cosas fantásticas que no se consiguen con dinero. El tiempo que pasamos con nuestros hijos, con nuestros amigos. La felicidad no se consigue teniendo una gran fortuna, ni la mejor casa, ni el mejor coche, ni disfrutando de unas vacaciones en el mejor sitio. Las cosas más sencillas son las que nos hacen más felices. 
Hay una frase muy peligrosa: "Si tú quieres, puedes". Esta es una frase que ha hecho mucho daño porque no es verdad, todos tenemos nuestras capacidades y nuestras limitaciones, no todos podemos hacer lo que queramos.
Eso sí, el mensaje no es: lo dejas todo, dimites y ya… ¡NO! Lo importante es que cada uno de nosotros tengamos claro qué es lo importante y nos preocupemos de encajarlo en nuestro día a día.
Vivimos en una sociedad en la que todo es muy complicado, el nivel de estrés y de exigencia se ha multiplicado tanto que cuando llegamos al tope de la resistencia, llega un punto que nos rompemos.
Para Küppers, una de las primeras cuestiones dentro de la Responsabilidad Social Corporativa (RSC) de una compañía debería de ser cuidar a las personas que trabajan en la empresa y preocuparse porque cada persona tenga un trabajo que les llene, que les haga feliz. Considera que una persona que va alegre a trabajar da lo mejor que lleva.
Las empresas modernas, las que perduran y las que estarán en el futuro son aquellas en las que sus líderes entienden que lo suyo es la gestión de la alegría y del bienestar de sus equipos.
Küppers nos transmite su confianza en las generaciones que vienen por detrás: "son generaciones diferentes, estamos acostumbrados a juzgar a los jóvenes según nuestras costumbres, según lo que cada uno de nosotros hacía a su edad. Cuando nos fijamos y analizamos a los jóvenes en las facultades, se ve a personas con muchas ganas, mucho más preocupadas por el entorno. Las empresas que se preocupan y ponen el foco en estos valores y fomentan la interrelación entre perfiles y roles serán las que a futuro tendrán más éxito. Las nuevas generaciones no quieren dar su vida por una empresa, sino disfrutar trabajando, aportar algo a la sociedad. Para eso se requieren empresas diferentes".