Hands-on volunteering, double down on their commitment
The pandemic has mobilized around 400 volunteers in 10 countries covering 50 activities aimed at the most vulnerable groups: the sick, the elderly, children, people with a disability and those at risk of social exclusion. Now, after months of online engagement and activity, volunteers will gradually resume face-to-face activities—where permitted by the easing of lockdown restrictions, like in Spain—supporting society when it needs it most.
When MAPFRE Chairman and CEO Antonio Huertas explained that "giving is the only option," he summarized the group's priority in light of an extraordinary situation. This priority is consistent with the company's DNA, focused on serving people and aiding the protection and well-being of all its stakeholders.
In a context such as that caused by COVID-19, large companies support the public by giving their very best. To date, the group has raised up to 200 million euros to tackle the health and economic crisis around the world.
But another silent force, accustomed to stepping up altruistically to help those most in need, has embodied the corporation's commitment to people like no other: volunteers. Around 400 volunteers have come forward in the fight against COVID-19 through 50 activities channeled mainly through Fundación MAPFRE.
Responsibility to change the world
Them. Us. We have explained volunteering in simple words, because our actions are what count:
"There is nothing more powerful, nor more rewarding, than participating in the social change of our surroundings. Because we are all responsible for the well-being of those around us…To share what we have. What we receive. We are changing the world (…) because together we are stronger. We multiply."
More united than ever, volunteers and MAPFRE as a whole have rallied together in light of COVID-19 and have done so by prioritizing needs in ten countries: Colombia, Spain, Honduras, Malta, Mexico, Nicaragua, Panama, Turkey, Uruguay and the United States.
5 pillars covering 50 activities
The team of volunteers has been deployed around five pillars aimed at especially vulnerable groups, those that are regularly served by the company and those affected by COVID-19.
For the sick: Volunteering aimed at sick children admitted to hospital, through virtual cards, as well as companionship over the phone for elderly people in hospitals.
For the elderly: Companionship over the phone for those living alone or in care homes, sending virtual letters, helping Alzheimer's patients keep their minds active, workshops on new technologies and making flowers from recycled materials to raise Christmas funds.
For children: Online workshops for children at risk of exclusion, crafts, dance classes, cookie and cupcake workshops, virtual academic and pupil support in languages, math, English and physics for at-risk minors, as well as a pen pal system between young volunteers and children of a social entity.
People with a disability: Video tutorials explaining cooking recipes and household chores so that they can continue to be independent in their homes, and online promotion of socially including people with intellectual disabilities.
People at risk of social exclusion: Training for job interviews, writing résumés and cover letters, guidance for actively searching for jobs, advice and solutions for questions about professional career paths, and technical translations (English, French, Arabic, Portuguese, Russian, Albanian and Wolof).
As Mother Teresa of Calcutta confessed, "We know only too well that what we are doing is nothing more than a drop in the ocean. But if the drop were not there, the ocean would be missing something." In a pandemic ravaging the world over, every small act of support has a tremendously useful impact.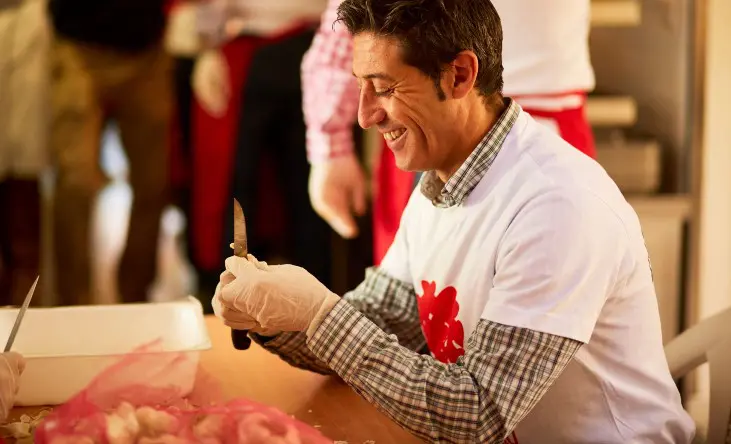 #MAPFREVolunteers and #InMAPFREmoreUnitedThanEver have served as a powerful call to action and a reflection of the best of MAPFRE, our volunteers, who are internationally recognized by the company's highest management, which reinforces the global scale of the project and encourages the workforce to keep getting involved.
In 2019, more than 125,000 people in 28 countries benefited directly from Fundación MAPFRE's voluntary work alone in important areas such as health, education, nutrition, the environment, solidarity and emergency aid.