Across Chile, we are using preventive and healthcare supplies in one of the most pressing areas — centers for the elderly and care homes
As part of its commitment to fight COVID-19, Fundación MAPFRE has made a substantial donation in Chile. Over the next three months, expected to be when the country will be hardest hit, supplies will be provided to 30 care homes and 604 workers working in long-term care facilities for the elderly managed by SENAMA (Servicio Nacional del Adulto Mayor — Chilean National Service for Older Persons) and CONAPRAN (Consejo Nacional de Protección a la Ancianidad — Chilean National Council for the Protection of the Elderly).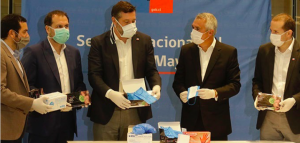 Specifically, things that help protect against potential coronavirus infection are being provided, which includes 200,000 masks and pairs of gloves, 15,000 shoe covers and 50,000 medical gowns.
All the material offered to both institutions has been distributed via the SENAMA facilities, who gratefully received the donation.