At MAPFRE, we have undertaken five commitments related to sustainability by 2021.
45 percent of managerial position vacancies to be filled by women.
People with a disability comprising 3 percent of our workforce.
MAPFRE facilities in Spain and Portugal to be carbon neutral by 2021, and in the rest of the Group by 2030.
We will not invest in utility companies deriving 30 percent or more of their revenue from coal-produced energy.
We will not insure the construction of new coal-fired power plants or the operation of new coal mines.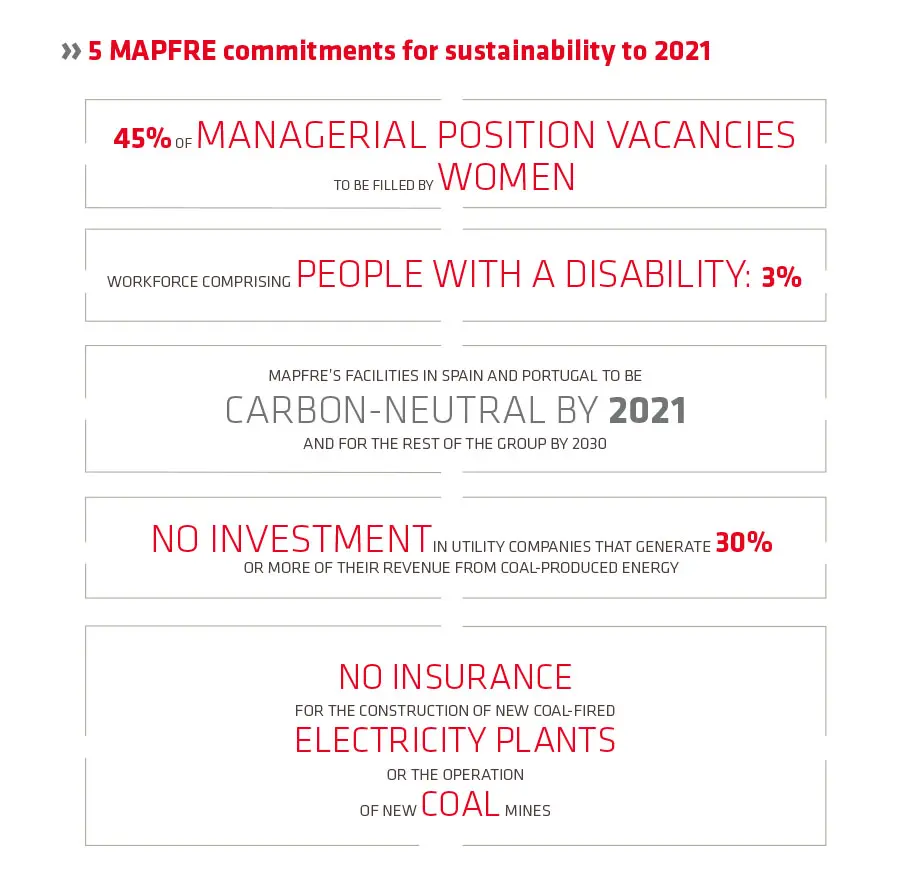 Our international and local commitment to sustainable development is strong and reflected by the company's voluntary compliance with benchmark international and local initiatives in this area, in which we actively participate.
We have integrated the ten principles of action covered by this pact, which we have been part of since 2004, into our management. These consist of topics relating to human rights, labor rights, the environment and the fight against corruption. The results have been very satisfactory. In 2020, MAPFRE's Progress Report has again awarded the maximum score of Advanced by the United Nations.
This develops and promotes links between the environment, sustainability and financial performance, identifying and encouraging the adoption of best environmental and sustainability practices at all levels of the financial institution's operations.
We work to integrate these insurance industry-specific principles into our activity, which seek to incorporate environmental, social and corporate governance aspects into business management, in terms of both opportunities and risks. Within this framework, we have adhered to the general insurance industry commitment to support the United Nations in disaster risk reduction (United for disaster resilience).
The commitment to achieve a safe, stable climate in which the rise in global temperatures does not exceed 2ºC and to immediately adopt measures to bring greenhouse gas emissions down to a safe level.
We are a signatory to the Carbon Disclosure, Water Disclosure and Carbon Action programs which form part of the Climate Disclosure Project (CDP).
We have become a member of the global network of signatories to the Principles for Responsible Investment, a United Nations initiative that aims to understand the impact of environmental, social and governance issues on investment and take these into account when making decisions.