The insurance giants invest 75 percent of their balance sheets in sovereign and corporate debt
The insurance industry is known to be one of the main sources of institutional investment in the world.
Unlike other financial institutions, the insurance business model calls for the implementation of liability-driven investment strategies, with the objective of achieving an adequate match in terms of maturity, currency and interest rates between the liabilities assumed and the investment instruments behind them. The nature of this business and the regulatory framework leads insurers to invest much of their capital in quality debt, both sovereign and corporate.
MAPFRE Economics provides an overview of the evolution, distribution and risk profile of the assets in the investment portfolios of insurance companies across a selection of developed and emerging markets globally. In this respect, its analysis includes markets in the eurozone, the United States, Japan, the United Kingdom, Spain, Brazil and Mexico. In turn, it also carries out in-depth analysis of the portfolios of insurance giants Allianz, Axa, Generali, Aegon, Zurich and MAPFRE.
In 2019, the insurance markets had total investments amounting to 20.91 trillion euros. Furthermore, when analyzed individually, the investments of the insurance industries in each country represented significant portions of the respective gross domestic products, from 5 percent in the case of Mexico to 99 percent for the United Kingdom. Most of the investments are concentrated in government and corporate debt.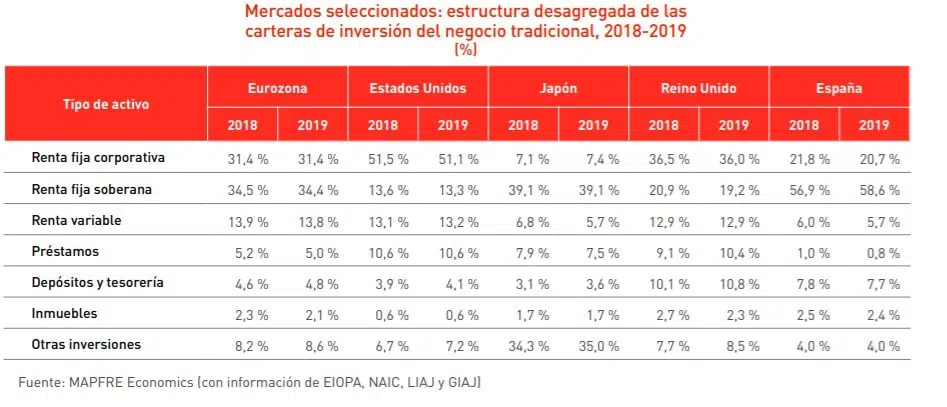 Among the developed markets, Spain still has a more conservative profile, since the majority of its investment portfolio comprises fixed income, and it has a higher concentration of sovereign fixed income in particular.
The combined analysis of the traditional business investment portfolios of Allianz, Axa, Generali, Aegon, Zurich and MAPFRE (excluding the unit-linked business) highlights the predominance of corporate fixed income, which represents 39.5 percent of investments. Sovereign fixed income at the close of 2019 represented 34.9 percent of the portfolio. In the case of MAPFRE, its exposure to sovereign debt stands out.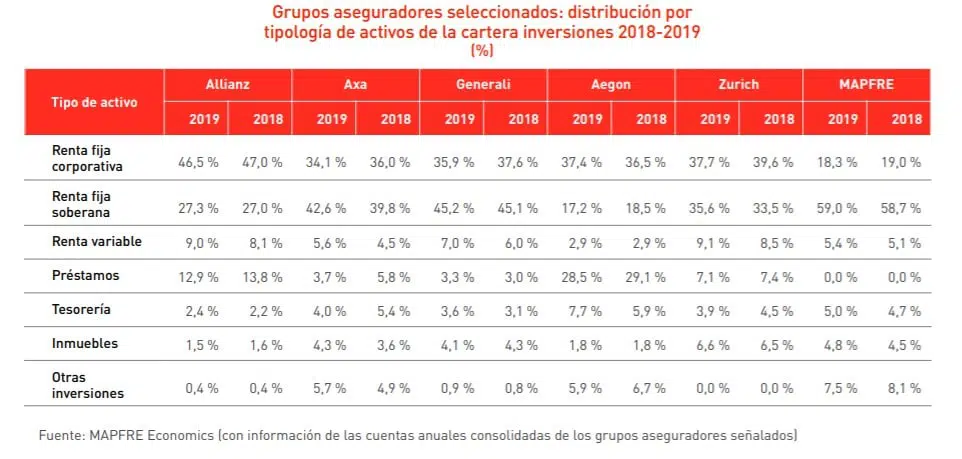 To view the full report on insurance industry investments, click here