Equity in mutual funds and pension plans exceeds 10 billion euros for the first time
MAPFRE manages assets in 26 countries and broke all previous records last year.
Beyond the insurance group's investment portfolio of nearly 54 billion euros, savings managed for clients, in the form of pension plans and mutual funds, have broken a long-standing record. More specifically, pension plans amounted to 5.47 billion euros at the close of 2019, which shows a sharp increase of 12.4 percent compared to the previous fiscal year, and mutual funds amounted to 4.64 billion euros, representing a 6.9 percent increase, as reflected in the Financial Report released on Wednesday. In total, the combined amount is a record 10.12 billion euros. This increased contribution of managed savings has contributed to bringing the Group's total number of assets under management to levels never seen before. When the group's investment portfolio is added to the figures for pension plans and mutual funds, the figure reaches 63.64 billion euros — an increase of 8.8 percent compared to the previous fiscal year.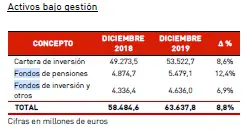 As for the diversification of this portfolio, public and corporate debt exposure saw marginal fluctuations over the quarter, from 56.4 percent and 17.6 percent to 56.6 percent and 17.1 percent, respectively. "Over the quarter, bond volatility has been leveraged to actively increase or decrease duration," as reported in the Financial Report. Exposure to equities and mutual funds increased from 7.4 percent to 8 percent thanks to the good performance of the main stock markets. It is important to note that around 90 percent of all assets in MAPFRE's portfolio have high and very high scores in their ESG (Environmental, Social and Governance) ratings. "Only 0.5 percent have a low score according to our methodology, which is reviewed quarterly," as noted in the report.
ONLINE UNDERWRITING WAS AT 5.5 MILLION EUROS — 700,000 POLICIES WERE 100 PERCENT ONLINE
DIGITAL BUSINESS REVENUE INCREASED 41.9 PERCENT 2019–2021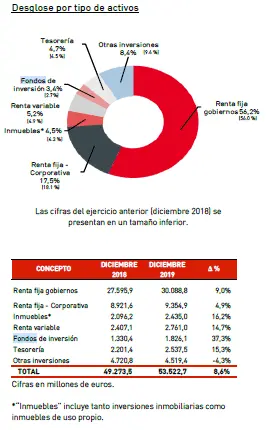 According to Álvaro Anguita, Managing Director of MAPFRE AM (the MAPFRE asset management company that celebrated its thirtieth anniversary last year), Spain's good performance is a result of to two factors. The growth in pension plans is related to the timely introduction of the "Your Future" program, which the group launched at the end of 2018. This is a free solution that automatically adjusts each client's retirement savings to their own risk profile, based on the client's age. "We are providing a discretionary investment management service for pension plans," Anguita said. In addition, Anguita highlighted that this service also facilitates the sale of these products through the network. "Pension plan investments are distributed on behalf of the client by the same team that is involved in MAPFRE Group's Global Asset Allocation Committee, so there is a shared interest," he added.
Regarding mutual funds, the launch of new products and refocusing the business toward an institutional audience is also facilitating the positive performance of equity. In order to make the most of this marketing channel among the big investors, MAPFRE AM appointed Eduardo Ripollés, a specialist with over 20 years of industry experience, as Director of Institutional Business Development.
At the end of February last year, the MAPFRE Behavioral Fund was launched, which is a mutual fund designed to exploit inefficiencies caused by the behavior of market participants. And, more recently in December 2019, MAPFRE Inclusión Responsable, an equity fund that invests in companies that promote the inclusion of people with disabilities. It has just been launched—starting with only 10 million euros of capital contributed by MAPFRE itself—but several institutional investors have already shown interest. The fund, which has been included in the report of the United Nations Global Compact as an example of best practice, combines the search for financial profitability with the promotion of improvements in society.
In addition to these strategies, MAPFRE is preparing new developments for the rest of the year, both in equity and fixed income products.