In order to respond to the speed with which the business environment is changing, and with the objective of maintaining competitiveness in the sector, we are reinforcing our strategy for the 2019–2021 cycle, under the slogan Transforming ourselves for growth and improved profitability.
We consider transformation to be a transversal element that goes far beyond digitalization, and see it as something that must be present in everything we do. Transformation is part of our culture, and acts as an accelerator across the entire organization.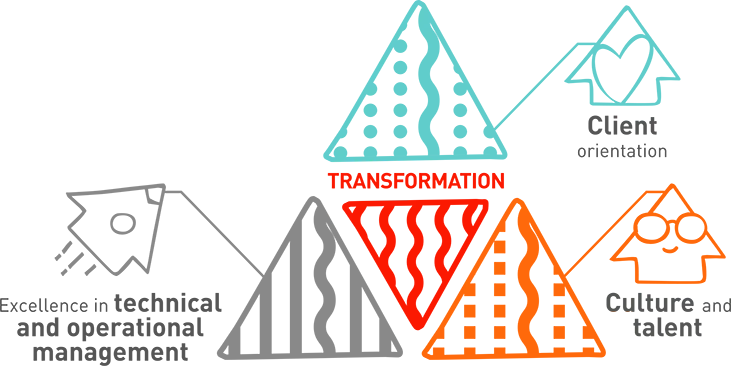 Based on the transformation we need as a company, we are articulating our strategy around three pillars: client orientation, excellence in technical and operational management and culture and talent.
We are 100-percent client-oriented, and place the client at the center of everything we do so that we can continue to be your trusted insurance company. With the client orientation pillar, we are working to understand your needs and offer you value propositions that are innovative and tailored to each client profile.
We consider excellence in technical and operational management to be a fundamental goal, and key to achieving adequate profitability in the market.
We believe that it is essential to be able to count on the people and culture of MAPFRE as the bedrock of our whole business. Our people's effort and commitment drives transformation and helps us to anticipate change by leveraging progress in the digital age. Equal opportunities, diversity and labor inclusion are the transversal principles at the center of our strategy.