Climate change features on the public agenda of every country and transitions to a decarbonized economy are under way, although progressing at different speeds.
We are working to strengthen our environmental, social and governance risk analysis models in a comprehensive manner, as a business and as investors. We are also identifying sustainable development opportunities for the insurance business.
We continue to make progress in our commitments to the United Nations 2030 Agenda and in our strategy to combat climate change, which is based on the following actions:
Reducing our environmental footprint. We are measuring our impact on the environment and setting objectives for carbon neutrality and reducing emissions.
Integrating the climate change variable into our business. We are incorporating the recommendations of the Task Force on Climate-related Financial Disclosures (TCFD) into our financial planning, as well as including environmental, social and governance (ESG) criteria in investment, underwriting and the definition of low carbon products.
Promotion of the circular economy. We have minimized the generation of waste in our activity and positioned ourselves as an agent of change in the transition to this type of economy, by promoting products and services and supporting specialized companies in the sector.
Biodiversity preservation. We are raising awareness and supporting initiatives to protect ecosystems that are more sensitive to the effects of climate change.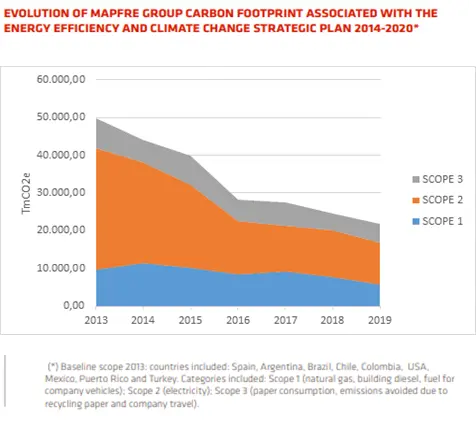 Fifty-six percent reduction in the Carbon Footprint of the MAPFRE Group associated with the Energy Efficiency and Climate Change Strategic Plan 2014–2020.
Commitment to carbon neutrality of the Group's Iberia territorial area by 2021.
Group commitment to carbon neutrality by 2030.
2019 Annual General Meeting – a carbon-neutral event.
Products and Services with Environmental Coverage
65,497 hectares of sustainable crops and forests insured.
33,697 MW insured from wind and solar energy.
46,837 low-emission vehicles insured under the green policy.
46 hybrid and electric tow trucks form part of our provider network.
2,495 employees have now received environmental training.
2,300 volunteers planted 1,800 trees and collected more than 14 tons of trash during the third edition of the MAPFRE Volunteering Day under the slogan "All together for the Environment."
20 countries became members of Earth Hour.
Collaboration agreements with organizations for the preservation of biodiversity: WWF España, Funzel (El Salvador), Bird Life and Nature Trust (Malta), Para La Naturaleza (Puerto Rico)
Adaptation of the company's headquarters to conform to the Zero Waste Regulation in 2021.
The MAPFRE Sin Plástico pledge has prevented the generation of 25.8 tons of plastic waste, along with the emission of 104 tons of TmCO2eq into the atmosphere.
Treatment of 2,556 out-of-use vehicles, from which a total of 73,544 parts and components were recovered for reuse.